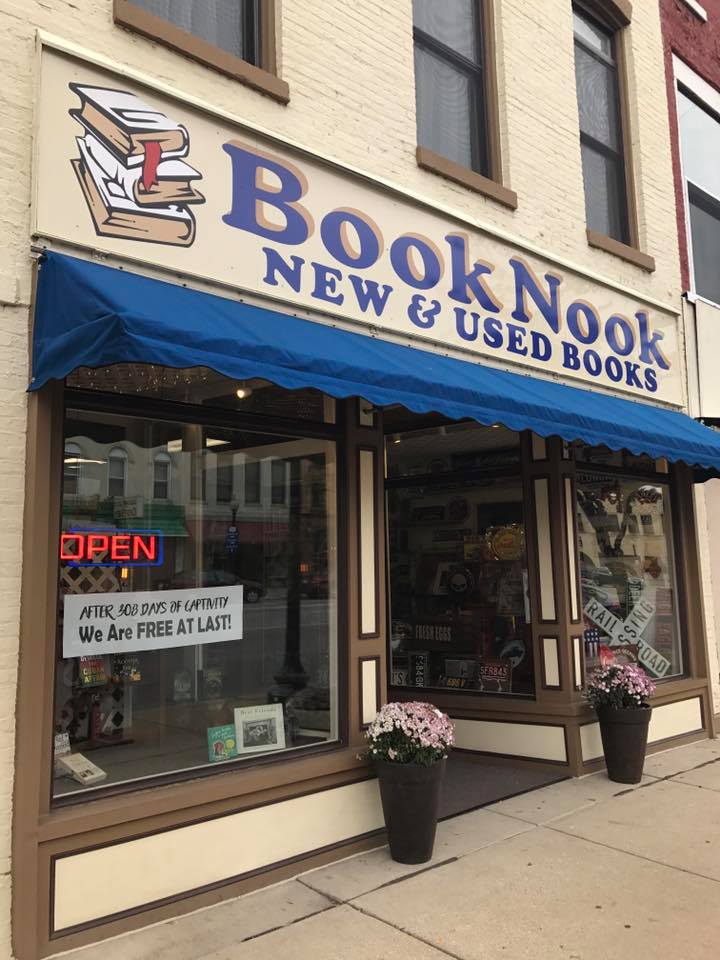 The Book Nook, a new and used independent bookstore in downtown Monroe, Mich., reopened this week after nearly a year of clean-up and renovations following a fire in an adjacent building, the Monroe News reported. The fire broke out last December 31 in a vacant retail building next to the Book Nook, and while the fire did not spread to the bookstore, it and some upstairs apartments suffered extensive smoke and water damage. Owner Janet Berns told the Monroe News that she "never in a million years" thought it would take so long to reopen, but customers and community members rallied around the store.
In the months since the fire, Berns has worked with "claims adjusters, contractors, insurance representatives and the City of Monroe building department" to put things back together. She's installed new carpeting, repainted the store, repaired drywall, replaced damaged bookshelves and made several other improvements to the nearly 100-year-old building, including making the store's bathroom handicapped accessible.
She also took the opportunity to redesign the store's layout. A former storage room has been turned into the store's fiction section and a secondary entrance, and now Berns stocks all books by subject matter, with new and used books mixed together. Another addition is a mural on the back of the building that includes Berns's father, who built many of the store's original bookshelves.
While renovations were underway, Berns began selling used books online. Though that has come to a halt with the store reopening, she does plan to continue at some point, probably after the holidays. Berns also told the Monroe News that while the store was closed, she "couldn't bear" to look at book catalogues, and now that the store is open, she has to catch up with new books. She added that her goal now is to make it until 2019, when the Book Nook will mark its 50th anniversary.