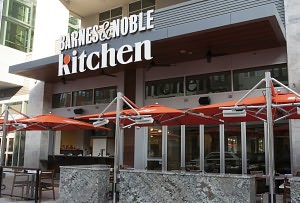 Barnes & Noble has opened its fourth new concept store, featuring a smaller format with a full-service bar and restaurant, at Legacy West in Plano, Tex. The Dallas Morning News reported that "books are definitely not an afterthought, but Barnes & Noble Kitchen is as much as a destination for something to eat as it is food for thought." The 10,000-square-foot store's restaurant features seating for 178 indoors and on a patio.
The new store is less than two miles from a full-size B&N at Stonebriar Centre in Frisco, but the company believes there is a separate customer base at Legacy West, according to store manager Tommie Dewberry, who said, "Stonebriar is more about families."
Carl Hauch, B&N's v-p of stores, said that having two stores so close together is more a reflection of what's happening in Plano, which "is growing with different populations, and we think we're serving a different demographic with this store. We'll listen to the customer and adjust."
The Plano store is smaller than the other B&N Kitchen stores that have opened thus far in Edina, Minn.; Folsom, Calif.; and Eastchester, N.Y. A fifth new concept store is set to open soon in Ashburn, Va. "We're learning from these initial stores and looking at leases as they come up for renewal," Hauch said.