Hachette Book Group held its sixth annual Book Club Brunch at the New York Society for Ethical Culture in New York City, on Saturday, October 21. The day-long event brought more than 350 people to hear eight authors, including Emma Donoghue (The Wonder) and Madeline Miller (Circe), discuss a variety of topics. R.J. Julia Booksellers in Madison, Conn., served as the official bookseller for the event and brought along 50 of the store's own book club members.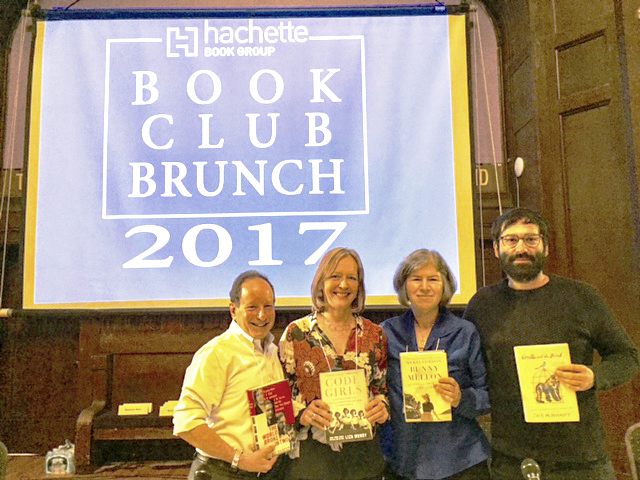 Nonfiction panelists Bill Goldstein, Liza Mundy, Meryl Gordon and Zack McDermott
The day began with a narrative nonfiction panel featuring Meryl Gordon (Bunny Mellon), Liza Mundy (Code Girls) and Zack McDermott (Gorilla and the Bird), moderated by NBC New York book reviewer Bill Goldstein (The World Broke in Two). For a special book club discussion, Madeline Miller spoke to Lee Boudreaux, v-p and editorial director of Lee Boudreaux Books, about Circe, her forthcoming follow-up to The Song of Achilles.
Following lunch was a fiction panel moderated by Maris Kreizman of Book of the Month Club; authors Kimberla Lawson Roby (Sin of a Woman), Brendan Mathews (The World of the Tomorrow) and Betsy Carter (We Were Strangers Once) discussed family dynamics in their respective novels. The event concluded with a discussion between Emma Donoghue and NPR book critic Maureen Corrigan.
Throughout the day, attendees purchased books and had a chance to chat with authors. R.J. Julia reported a great day of sales.