Cinco Puntos Press, the independent publisher based in El Paso, Tex., has launched Mama Bravo's Book Club & Social Hour, a reading series featuring both Cinco Puntos Press authors and authors published by other houses. Cinco Puntos Press's marketing director and CFO John Byrd explained that the goal of the series is to cultivate an audience for local and touring authors in the area and to demonstrate the market for a general interest, independent bookstore in downtown El Paso.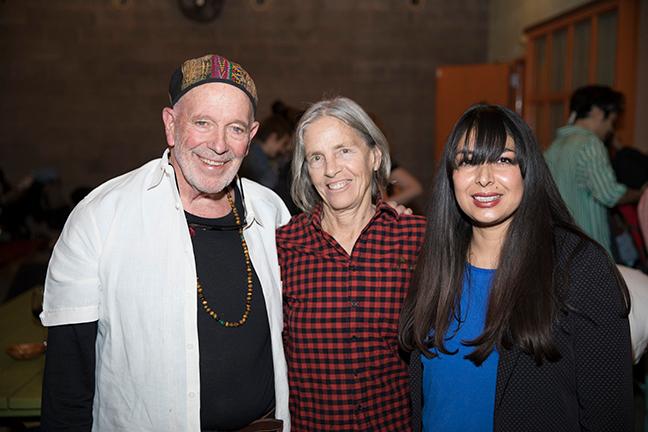 Photo: Jorge Salgado, El Paso Inc.
(l.-r.) Bobby Byrd (Otherwise My Life Is Ordinary, Cinco Puntos Press), Eileen Myles (Afterglow (a dog memoir), Grove Atlantic) and Gris Muñoz (Coatlicue Girl, forthcoming from Pandora lobo Press).
The series kicked off on November 7 with Grove/Atlantic author Eileen Myles reading from her book Afterglow (a dog memoir) at Blackbird Cantina in El Paso. According to Byrd, the event was a "strong success," with some 100 people in attendance and 40 copies of Afterglow sold. The next event in the Mama Bravo's series is scheduled for December 10; poet Benjamin Alire Sáenz will read from his collection The Last Cigarette on Earth at the Pershing Inn. A third event featuring Isabel Quintero reading from Photographic: The Life of Graciela Iturbide is tentatively scheduled for March 2018.
Cinco Puntos Press has maintained a small storefront in its El Paso offices for years, Byrd said, and while he and his colleagues have thought about turning that retail space into a full-fledged bookstore that would carry a selection of Cinco Puntos books along with others, they don't want to shift too much of their time and energy away from publishing to run a larger store. They would prefer to find a business partner to run the bookstore, and the reading series is in part a way of showing the potential of such a store. Byrd noted that El Paso has two Barnes & Noble stores that are among the chain's best-performing stores, and though an independent bookstore opened in the city this year, it sells primarily used books and books for collectors.
"We hope to accomplish a lot with the reading series, but secretly one of my greatest desires for it is to cultivate a community of readers in El Paso," said Byrd.