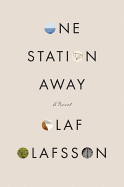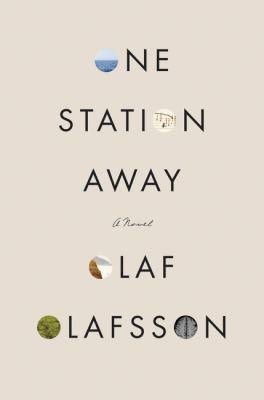 Does a neuroscientist know how to communicate with those he considers close any better than the rest of us do? Judging from the many personal disconnects in the life of Magnus Conyngham, the narrator of Olaf Olafsson's brainy novel One Station Away, Olafsson seems to side with the rest of us. Born in Iceland, raised in England and living alone in New York City, Magnus works in a well-funded lab in Connecticut. His days are filled with coffee, commuting and navigating the egos of his department chair, his lab assistants and the chairs of the two European academic centers collaborating on his research project.

Although focused on his study of the brain function of comatose patients, Magnus is frequently preoccupied with his Buenos Aires-born, ballet dancer lover, Malena, and her sudden death from a motor neuron disease--a disease he failed to detect in his exuberant infatuation with her. In self-imposed exile from his parents in England, Magnus struggles with their persistent pull on his life. He suffers from their perceived indifference to him in childhood, while his mother pursued a career as a classical pianist and his flamboyant musicologist father ran a series of failed record label companies. Magnus hardly understands anyone around him--until he takes on a new research subject in a coma after a New Mexico motorcycle crash.

A Latina Jane Doe, she fails to show any MRI brain response to his rote questions until he begins to sit with her, talking, playing CDs of his mother's music and reading to her in Spanish from One Hundred Years of Solitude. Finally, she blinks, her scans light up and she is able to answer yes and no questions. Is it a scientific breakthrough, a sociable dialogue or a call for help?

A Time Warner executive born in Iceland, Olafsson (Restoration, Absolution, etc.) methodically immerses readers in the mind of the contemplative, sensitive and self-doubting Magnus. Olafsson's smooth and deliberate narrative gradually reveals the deceptive complexity of his characters. Magnus attempts to learn Spanish to better understand Malena--only to find her resenting his efforts to enter her culture and history. When his father releases dozens of CDs claiming to be of his mother playing the great concertos, the sudden Internet-driven praise for her talent undermines his assumption that she was second-rate. The scientific step forward he sought reveals the dangers of tapping a hopeless patient's brain as he realizes, "We had constructed a perfect machine for the sole purpose of enabling her to tell us that she wanted to die."

In quiet, well-paced prose, Olafsson tells a story that raises more questions than it answers. Can music connect us? Can science? Can love? Can language? Or are we doomed to miss each other? Even though his characters move in the professional worlds of the artist and scientist, they are as prone to detachment as the rest of us. As Magnus's father tells him: "It's not easy always being one station away." --Bruce Jacobs, founding partner, Watermark Books & Cafe, Wichita, Kan.

Shelf Talker: True to its neuroscientist protagonist, One Station Away is a carefully measured novel of the search for personal connection in a world of uncertainty and self-doubt.