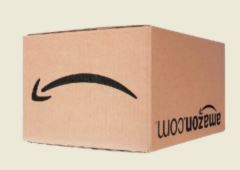 Amazon has introduced a minimum order fee for its Prime Now same-day delivery service in the U.K. The Bookseller reported that "for purchases under £40 [about $52] made through the delivery service, customers will have to pay £3.99 plus a £2 tip for drivers. Previously, Amazon had a minimum order of £20 to get free same-day delivery through Prime Now. The minimum order has now come down to £15, although any order below £40 comes with the £3.99 fee. The fee covers same-day delivery within a specified two-hour period."
Amazon launched Prime Now in London in 2015. It is now also available in Birmingham, Newcastle, Manchester, Leeds, Liverpool, Portsmouth, South Yorkshire and Surrey.
The new policy "has not gone down well with customers," the Bookseller noted, citing social media postings like "So disappointed that @amazonprimenow changed the delivery fees won't be using this every week now #amazon #primenow #amazonprimenow." And: "Yep I just cancelled mine. Doesn't make sense to do that if like us we spend nearly every week. They shoulda just gave us the option to change our membership rather than make everyone else suffer because of the majority #loyaltygone."