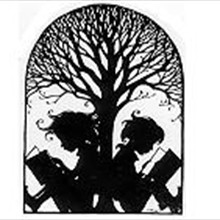 Congratulations to the Children's Book Shop, Brookline Village, Mass., which is celebrating its 40th anniversary this fall. Celebrations reached a peak November 11, when owner Terri Schmitz hosted a visit by longtime bookshop friend Peter Sís, who signed books, including his newest, Robinson. They were joined by loyal customers, past and present booksellers and staff and book industry representatives in toasting the store and its future.
The bookstore's logo (a silhouette of children reading under a tree) was created by award-winning illustrator Trina Schart Hyman for the store's fifth anniversary, and Sís created the bookshop's 20th anniversary poster.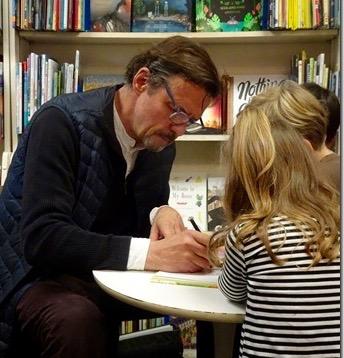 Peter Sís at the Children's Book Shop
Among the Children's Book Shop's community activities are an annual poetry contest, with more than 700 local students submitting original poems; collaborations with Lesley College and Simmons College symposia; Wondermore (a nonprofit supporting author visits to underserved schools in Boston); and donations of gently used books to the Reach Out and Read program and a sock drive for Boston Health Care for the Homeless.
The Children's Book Shop was founded by Brookline resident Rusty True Browder, who was inspired by the Bookshop for Boys & Girls established by Bertha Mahoney Miller in downtown Boston (from 1916 to the late 1930s). Browder featured books "in which young people could see their faces and lives reflected as well as those that carried them beyond their own experience," the shop noted. "Early on, the bookstore became known for its excellent selection of multicultural books." In 1985, Schmitz purchased the business, which has received numerous awards, ranging from Best of Boston to the Women's National Book Association Pannell Award in 2000.
"There is no doubt the bookselling climate has changed significantly over the years of the bookstore's existence, presenting challenges for independent stores," the Children's Book Shop said. "Nonetheless, the Children's Book Shop remains true to its goal of providing the best books possible, bringing generations of young people, educators and adults who value books for the young the opportunity to choose good books."