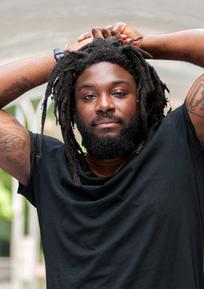 photo: Ben Fractenberg
Jason Reynolds is crazy. About stories. He is a New York Times bestselling author, a National Book Award Honoree, a Kirkus Award winner, a Walter Dean Myers Award winner, an NAACP Image Award Winner and the recipient of multiple Coretta Scott King honors. His debut novel was When I Was the Greatest and was followed by Boy in the Black Suit and All American Boys (cowritten with Brendan Kiely); As Brave As You; and the first two books in the Track series, Ghost and Patina. His most recent novel, Long Way Down (Atheneum), was published October 24.

On your nightstand now:

At the moment, the only thing on my nightstand is an edition of Grimms Fairy Tales. I've been making it a habit to flip through it every day because I'm playing around with the idea of doing some kind of reinterpretation of one. We'll see!

Favorite book when you were a child:

None. At least not that I can remember. Books weren't really my thing. Now, if liner notes count as book(lets) then I'd have to say Queen Latifah's Black Reign.

Your top five authors:

To pick my top five authors is way too hard. But if I have to choose: James Baldwin, Langston Hughes, Jesmyn Ward, Lucille Clifton and John A. Williams.

Book you've faked reading:

The book I've faked reading is definitely Harry Potter. I'm clearly a slytherin.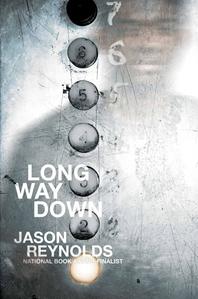 Book you're an evangelist for:

Jesmyn Ward's Salvage the Bones. It's a story about a teenage girl, and love, and family, and ultimately the storm before the storm that was Hurricane Katrina.

Book you've bought for the cover:

Dave Eggers' What Is the What. Gorgeous. Blue and Orange. And a stark brown face.

Book you hid from your parents:

None. I hid all of them from myself.

Book that changed your life:

Black Boy by Richard Wright. First book I ever read, and I only got through it because at the very beginning the protagonist burns his mother's house down. Perfection.

Favorite line from a book:

"Unscrew the locks from the doors! Unscrew the doors themselves from their jambs!" From Walt Whitman's "Song of Myself." Always reminds me to kick the door down.

Five books you'll never part with:

Montage of a Dream Deferred by Langston Hughes
Blessing the Boats by Lucille Clifton
The Fire Next Time by James Baldwin
Beloved by Toni Morrison
Nigger by Dick Gregory

Book you most want to read again for the first time:

Hmmm, tough one. Maybe Where the Sidewalk Ends by Shel Silverstein. That or Love That Dog by Sharon Creech.

Book that was a guilty pleasure:

Days of Abandonment by Elena Ferrante, though I don't necessarily feel "guilty" about it.