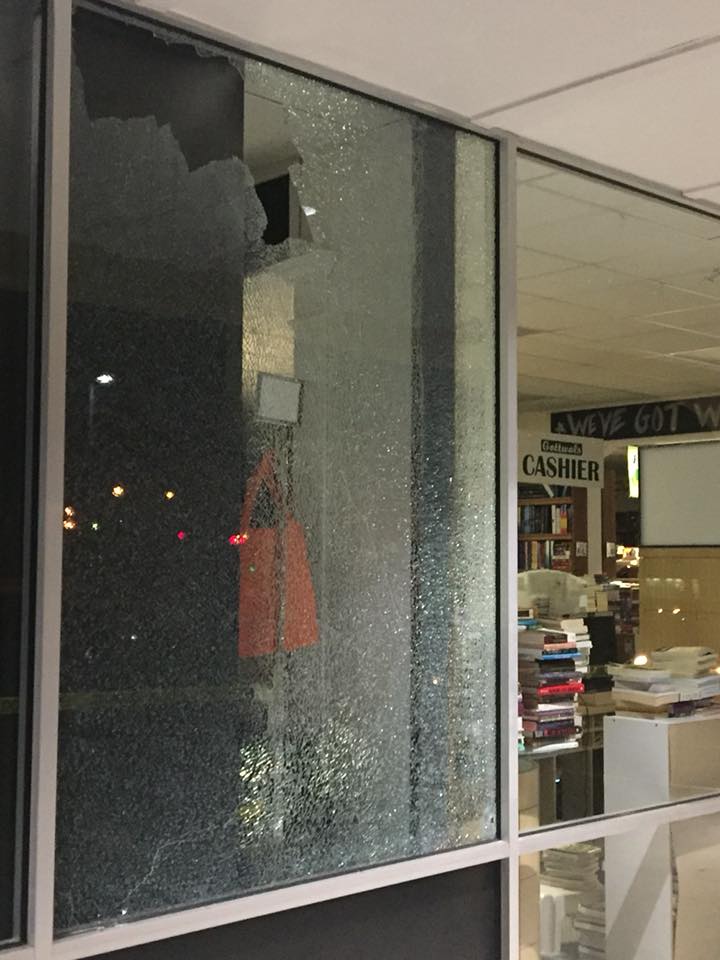 Shattered window at Gottwal's in Warner Robins, Ga.
Warner Robins, Ga., police are investigating a shooting incident that occurred Monday at the original Gottwals Books location on Russell Parkway. Someone fired a shot into store right after it had closed, the bullet shattering the front window and stopping "within ten feet of where our employees were standing," owner and CEO Shane Gottwals told 13WAMZ, calling the incident "a random act of stupidity.... This was our first location. We started on one side and expanded two times since then. We've seen basically no real crime at any of our locations."
On Facebook Tuesday, Gottwals wrote: "We have the best customers on the planet... you've sent many messages of love regarding the incident at our Warner Robins, Ga., store last night. This was NOT an attempted robbery; it was NOT targeted at our employees specifically; it WAS an act of stupidity.... We are open for business as if everything is normal... because it is. We will only allow this thug (or thugs) to take a pane of glass from us. They aren't getting anything else.
"I wanted to post these photos for our customers who care so much about Gottwals Books. You deserve to be aware of what happened. WRPD is still investigating to determine who did this. We blame no one except the perpetrator(s). We are positioned between law enforcement offices (on Carl Vinson) and a gun shop 4 spaces down. This is, and has always been, a safe shopping center.... Goes to show... these guys would profit much more by pulling out a book instead of pulling out a pistol."