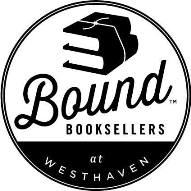 Kelly Gore, co-owner of Bound Booksellers, Franklin, Tenn., spoke with the Tennessean about "opening a small, independent bookstore in the loading dock of a quaint, 520-square-foot retail space in her home neighborhood of Westhaven" in 2016. Among our favorite responses from the q&a:
So how did you go from hanging out in bookstores at the beach to opening one?
I never set out to be a retailer. In a strange way, for me it was always about a place for people to gather to find hope and peace and education. A place to gather with a backdrop of books. There's a connection with someone else when you have read the same book. From the spark of the thought to opening, literally everything fell into place.
So, what sold you on this space?
I had this dream while we were at the beach about walking through a courtyard filled with green plants. Kind of a secret garden. When I made it through the garden, there was a door I opened and it was a bookstore. Whatever had been tugging at my heart has something to do with that. When I walked through this space and realized there was a courtyard attached to it, I couldn't believe it. People would enter this place by walking through the garden. It felt like the speakeasy of bookstores to me and it spoke to my vision of it being a place for people to gather with a backdrop of books. It was always about a community gathering spot for me, so this was a dream come true.
How'd you pick what to stock?
It is a very curated collection. I would say almost every book in here we've either read or someone has recommended that we read it. We subscribe to periodicals with independent best lists. Literally, 80% to 90% of the books have touched us in some way or been recommended by someone else. For the person who walks in and needs that prescription for just the right book, we are there. It's that curated. People feel like they aren't wasting money.
How did you come up with the name?
My husband came up with the name. I love books that are beautifully bound. Cloth-bound. I love a hardback. I kept saying the word bound. Being a literary person, I love a double entendre. We are bound for success. It's meaningful to me. My husband sketched the stack of books in our logo. The stack of books is actually a "B." So, there's another double entendre.