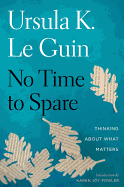 Best known for her speculative fiction, most notably the Earthsea saga, Ursula K. Le Guin is prolific in multiple genres, and unapologetic about it. At 81, she decided to try her hand at blogging, though she loathed the term ("it sounds like a sodden tree trunk in a bog"). Seven years later, she's still posting brief, witty, often acerbic essays on her blog, musing on the vagaries of old age, the proliferation of profanity in books, the joys of receiving fan letters from children and the antics of Pard, her beetle-obsessed cat. No Time to Spare presents the best of Le Guin's blog: sharp-eyed, big-hearted, idiosyncratic and highly enjoyable.

Both Le Guin's eye for detail and her dry wit are on full display here. On the craft of writing, she says, "Words are my matter--my stuff. Words are my skein of yarn, my lump of wet clay, my block of uncarved wood." Her small Christmas tree, she writes, held "darkness in it, a forest darkness, in the green arms held out so calmly, steadily, without effort." Her essays on literature, politics and aging are interspersed with "The Annals of Pard," a chronicle of "being chosen" by a small rescue cat. "We call him the good cat with bad paws," she says, noting dryly, "There used to be a lot of small delicate things on shelves around the house. There aren't now."

Ruminating on the idea of The Great American Novel (TGAN), Le Guin grows positively exasperated: "I've never heard a woman writer say the phrase 'the great American novel' without a sort of snort." She calls out the skewed, gendered and arbitrary nature of such "declarations of literary greatness," and ends with a bit of tart wisdom: "Art is not a horse race. Literature is not the Olympics. The hell with The Great American Novel."

Le Guin's sharp eye softens when she speaks about children, rejoicing in the handmade booklets and letters they send her, complete with creative spelling. She writes, too, about the Oregon Food Bank, calling it "the cathedral of hunger," and reminds readers of the need for "compassion, or community, or caritas." And even when faced with a strange experience, such as encountering a rattler on a Napa Valley ranch, she draws meaning from it: "A teaching, a blessing, may come in strange ways, ways we do not expect, or control, or welcome, or understand. We are left to think it over." Readers will find much to think about in this wise and eloquent collection. --Katie Noah Gibson, blogger at Cakes, Tea and Dreams

Shelf Talker: Prolific author Ursula K. Le Guin muses on aging, cats, politics and writing in this keen-eyed, big-hearted essay collection.