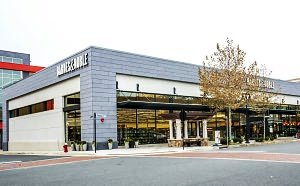 Barnes & Noble is opening its latest new concept store today at One Loudoun, a mixed-use community in Ashburn, Va., about 30 miles northwest of Washington, D.C. The Times-Mirror reported that the 17,000-square-foot space combines a bookstore with the B&N Kitchen, offering beer, wine and a "fast casual dining experience."
"You come into the store and you can see everything. This is a community bookstore. It's very expansive, it's not a library look," said store manager Christoper Louderback.
Carl Hauch, B&N v-p, stores, described the One Loudoun shop as in some ways a "test model" for the café concept, though "books will always be at our core.... It's a great location to be in Ashburn, and the community is growing."