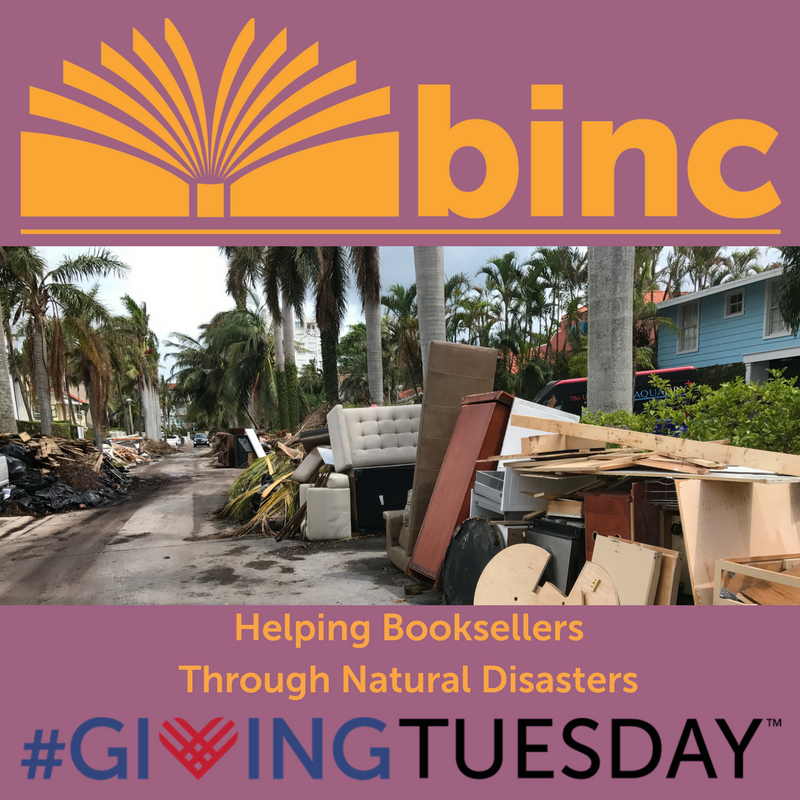 In conjunction with Giving Tuesday, which takes place tomorrow, the Book Industry Charitable Foundation (Binc) is launching its #MoreThanEver year-end campaign, a name reflecting the organization's increased activity this year because of so many natural disasters, as well as "the growing awareness of how Binc can help booksellers through emergencies." That help includes disaster relief, homelessness prevention and more. The campaign continues through the end of the year.
Tomorrow the campaign begins with a series of Facebook fundraisers that seek to earn a share of $2 million in matching funds being offered by the Bill and Melinda Gates Foundation. The Binc board and a founding member of the foundation are also offering to match donations from individuals and stores up to a total of $8,000.
Binc executive director Pamela French said, "We know people have a wide variety of wonderful charities vying for their support on #GivingTuesday. We are incredibly grateful to our supporters who are using their voice on Facebook to strengthen the bookselling community. Just a few minutes to set up a fundraising post can make a world of difference to a bookseller in need."
In addition, on Giving Tuesday, Ingram Publisher Services is donating more than $10,000 to Binc on behalf of its publishing clients with Publishers Group West, Consortium, Two Rivers Distribution, Ingram Academic and Ingram Publisher Services.
Mark Ouimet, v-p and general manager for IPS, PGW and Consortium, commented: "Known as the 'bookseller's safety net,' Binc truly makes an impact to help the book industry, and has helped boost the morale of our community. We believe the best way to thank our publishers for an amazing year is by honoring them in the most positive way possible with a donation in their honor to Binc."
And Sabrina McCarthy, v-p and general manager of Two Rivers, Ingram Academic and International Sales, said, "During this charitable season, we encourage our publishing cohorts to direct their attention to those working on the frontlines of selling books. This year was particularly hard for many bookstores and booksellers due to unpredictable circumstances like natural disasters and severe medical issues."
The Southern Independent Booksellers Alliance is also supporting Binc, matching SIBA member contributions tomorrow up to $1,000. SIBA is inviting stores to donate a percentage of their in-store and online Okra Pick book sales tomorrow to Binc. SIBA will support stores using the hashtag #GivingTuesday2Binc in social media, aiming to drive traffic to participating store websites for Okra Pick purchases.