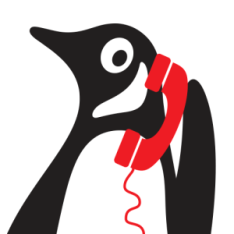 With the holiday shopping season now in full swing, Penguin has brought back the Penguin Hotline. Loosely modeled on the Butterball Turkey Talk-Line, which provides turkey-roasting help over the phone during the holiday season, the Penguin Hotline offers personalized book recommendations online: "As in years past, we will again have hundreds of Penguin employees on call starting right after Thanksgiving to help recommend books to anyone who is trying to find the right book for someone on their holiday list," the publisher noted, adding that the hotline is a "publisher-agnostic effort," recommending titles from numerous presses.
Response to the Penguin Hotline, which launched three years ago, has been "so much bigger than anticipated," Penguin said, with the total number of submissions increasing 50% last year over the previous year. Some of the requests hotline volunteers have fielded came not only from across the U.S., but also from the U.K., Canada, China, India, the Netherlands, Singapore, France and the Czech Republic.

Requests have ranged "from a Dad interested in conspiracy theories and aliens to a cousin with a passion for shrimp farming; from a good friend going through a rough break-up to a woman who wondered what to buy for the man who bagged her groceries." Penguin also noted that the initiative has "also acted as an incredibly special team-building exercise among Penguin employees--bringing people together from all different departments, imprints and divisions to swap information, gather insight and help craft the perfect recommendations for the Hotline users."