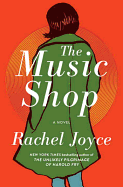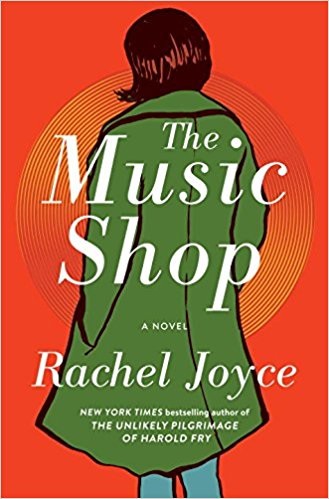 "There was once a music shop." In a down-at-heel street in a nondescript British city, Frank's record shop doesn't just sell vinyl (and only vinyl), it also gives people the music they don't know they need. Frank, a gentle giant of a man, was raised by Peg, an unconventional mother who passed on her fierce love of music to her son. His shop--stuffed with records arranged according to an instinctive, non-alphabetical cataloguing system--provides a place of warmth and refuge for visitors to Unity Street. In her fourth novel, The Music Shop, Rachel Joyce composes a narrative with as much soul and depth as Frank's beloved records: a richly layered story of loss, love and music.

Easygoing about most things, Frank is unbudging about vinyl, with all its idiosyncrasies. "Life has surface noise!" he shouts at a sales rep touting the "clean" sound of CDs. "Do you want to listen to furniture polish?" He's in good company among the eccentrics of Unity Street: kind Father Anthony, who runs a religious gift shop; taciturn tattoo artist Maud; the quiet Williams brothers, who are undertakers; and Kit, Frank's overeager but perceptive shop assistant. All of them--but especially Frank--are intrigued by the appearance of Ilse Brauchmann, an enigmatic German woman in a green coat with eyes "black as vinyl." Though reluctant to talk about herself, Ilse asks Frank for music lessons, and he is both baffled by and "irresistibly drawn to her great quietness." While Frank and Ilse form a tentative but deep bond, Unity Street struggles against the advances of a wealthy development company. Frank, who has lived a mostly isolated life, must decide whether he can fight for the survival of his shop, his community and the affections of the woman he has come to love.

Joyce (The Unlikely Pilgrimage of Harold Fry) tells her story in crisp, evocative prose, drawing readers inside the music, just as Frank draws customers into the listening booths in his shop. She portrays her characters with a clear-eyed compassion: Kit, for example, "has a loneliness stored in his smile." Like much of Frank's music, Joyce's novel has melancholy overtones, but it also contains moments of great passion, humor and delight.

Heartbreaking but ultimately hopeful, The Music Shop is a joyous, poignant, utterly human love song to community found in unlikely places, and a tribute to the healing power of music. --Katie Noah Gibson, blogger at Cakes, Tea and Dreams

Shelf Talker: Rachel Joyce's joyous, richly layered fourth novel tells the story of a music shop and its customers.