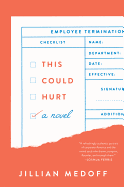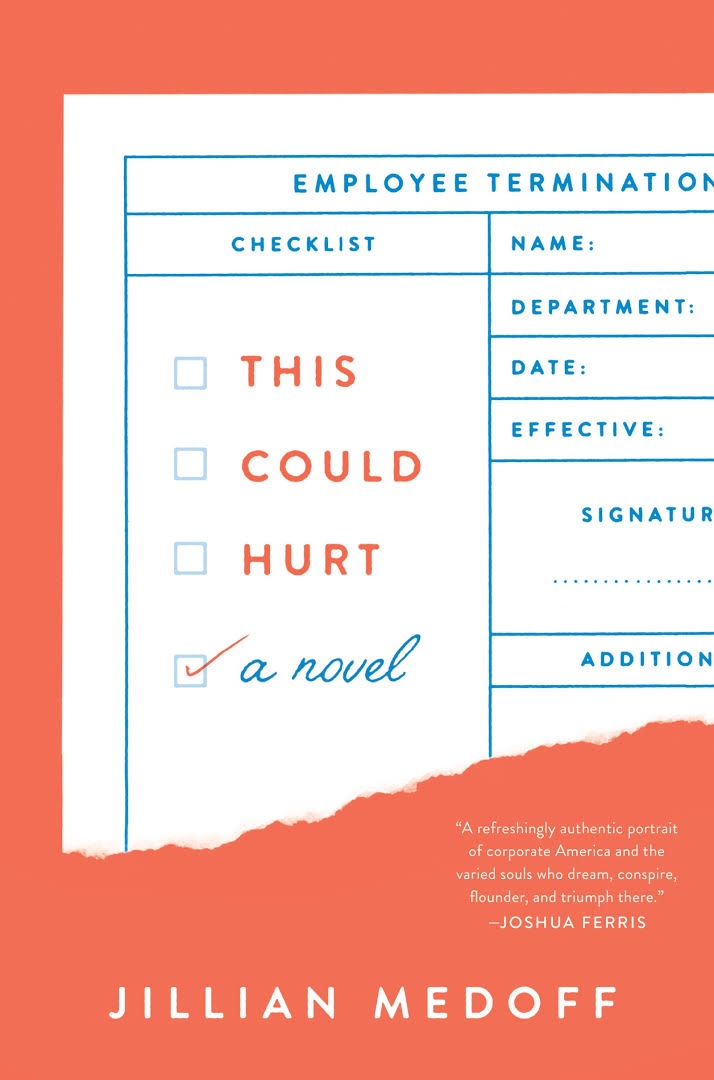 Corporate America during nine months of the Great Recession is the setting of This Could Hurt, Jillian Medoff's shrewd and deeply affecting fourth novel. Ellery Consumer Research--with offices in New York City, Raleigh and Atlanta--is a cutting-edge, boutique market research firm for clients like Walmart and General Motors. Medoff roots the story amid the shrinking human resources department of Ellery in New York, offering a well-drawn ensemble cast of flawed characters--a staff reflecting a diversity of races, generations and sexual orientations--who orbit around Rosalita "Rosa" Guerrero, the 64-year-old HR chief.

Rosa is a seasoned old-timer--personally and professionally. She adheres to the adage, "Business is cyclical.... Everything rises, eventually." However, her task in keeping those who report to her at Ellery "engaged while simultaneously assessing each one's value as a performer, team member, and long-term investment" is quite a challenge. She is bossy, but fair. Her take-charge, no-nonsense approach serves as a "voice of clarity and calm" in her quest to advocate for and boost the morale of those in her department despite drastic corporate cutbacks. Rosa's predicament grows more complex when she's forced to fire the v-p of operations--a trusted confidant of Rosa and her right hand--who was being groomed as her successor, but was embezzling from the company.

His departure leaves an open door for the rest of the HR staff, most of whom are scrambling to find ways to stay employed under the corporate restructuring and downsizing. They include Robert Hirsch, a family man and the burned-out assistant director of recruiting and training, who, as a 20-year employee, ponders paths not taken in his life. Kenny Verville, senior manager of compensation with Ellery for only three years, is a Wharton MBA with marital troubles and a very high opinion of himself who becomes more fixated on looking for a better job rather than focusing on the one he already has. Hopelessly single Lucinda "Lucy" Bender, v-p of communications policy, is working hard for a promotion and to find Mr. Right. But at what cost? And Leonard "Leo" Smalls, v-p of employee benefits, is capable and loyal, but floundering in his love life. When Rosa faces an illness that threatens to undermine her position of power at Ellery, she is forced to seek out trustworthy professional allies. Whom can she turn to, whom can she trust?

Medoff (I Couldn't Love You More) has a spot-on grasp on the often cutthroat nuances of office politics--especially within the high-stakes uncertainty of the Great Recession. She skillfully reveals the modus operandi of the staff as they vie to keep their jobs. Sharply drawn intimate details about the lives of each character add even greater depth and broaden the timeless appeal of this very smart, thoroughly absorbing story. --Kathleen Gerard, blogger at Reading Between the Lines.

Shelf Talker: A shrewd novel of corporate culture that examines how a group of HR employees face fallout from the Great Recession.