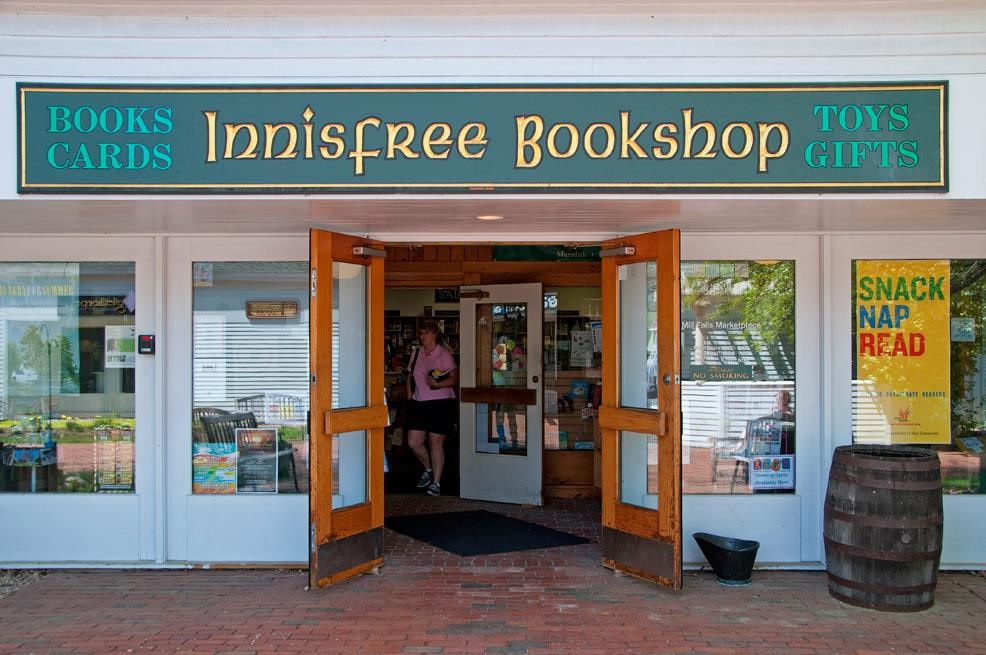 On our bookstore tour in New Hampshire the week before last, one of the two stores NEIBA executive director Steve Fischer and I visited at length was Innisfree Bookshop, Meredith, a 5,000-square-foot store that celebrated its 25th anniversary earlier this year. The store was well-decorated for the holidays--elegant red-and-green-wrapped presents and bags around the store made the point tastefully.

Innisfree is also undergoing some significant changes: Casey Gerken, who worked in the store as a bookseller from 2009 to 2013, bought Innisfree in June from longtime owners Jim Meryman and Laura Mammarelli. While some of the transition has been very smooth--Innisfree remains in its spacious location near the center of the picturesque town on Lake Winnipesaukee and the staff has stayed on--Innisfree has installed Anthology, its first-ever point-of-sale inventory-control system, and Gerken is taking over buying, which, with the help of Meryman, she is mastering.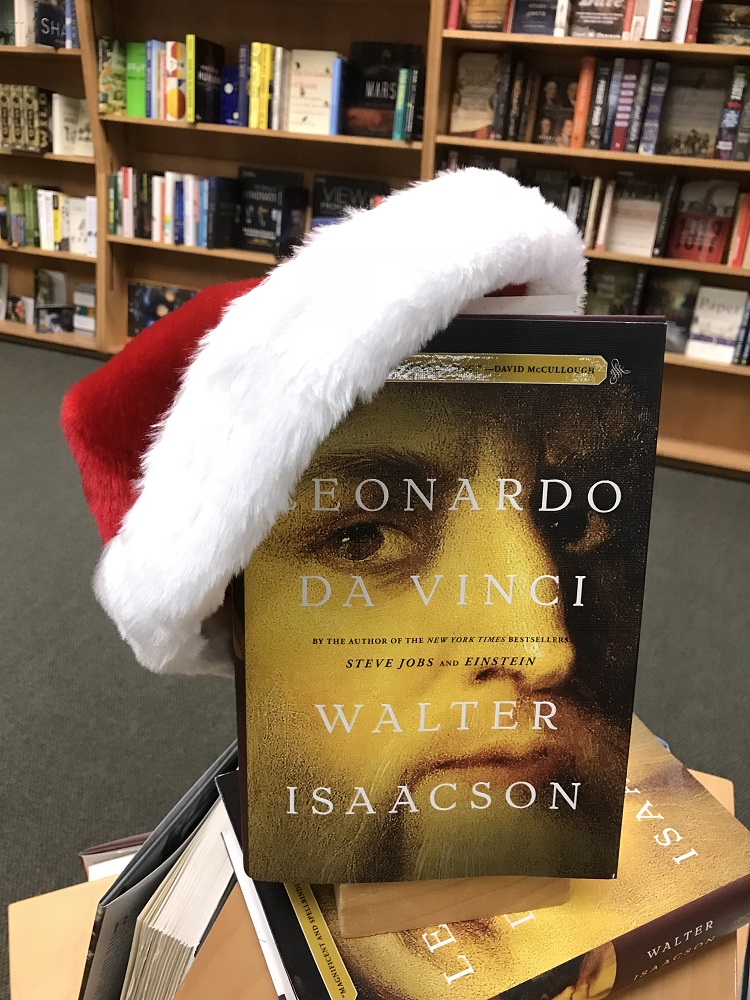 Replacing a system that was "just a cash register," Anthology has been working well, Gerkin said, after staff spent much of October adding inventory and purchases to it so that most information was available when the system went live. Gerken called Anthology "very intuitive."

Buying has also been a major new task for Gerken, who has been helped by former co-owner Jim Meryman. "Especially at the beginning of the summer, I couldn't have done it without him," Gerken said. He did a lot of the fall backlist ordering, and they shared an Edelweiss page so she could see how he ordered. He also went through the fall frontlist orders to make sure "I didn't miss anything," she continued.

Among the pleasant surprises as a new owner for Gerken is the positive reception she has received. "Since I worked here, reps remember me and have been very encouraging. Generally everyone's very happy for me and happy the store is staying here."

Among other changes, the store is starting to expand events, which "haven't been a big part of things," Gerken said. Already Innisfree is working with the Winnipesaukee Playhouse on collaborations, including use of the theater for some events.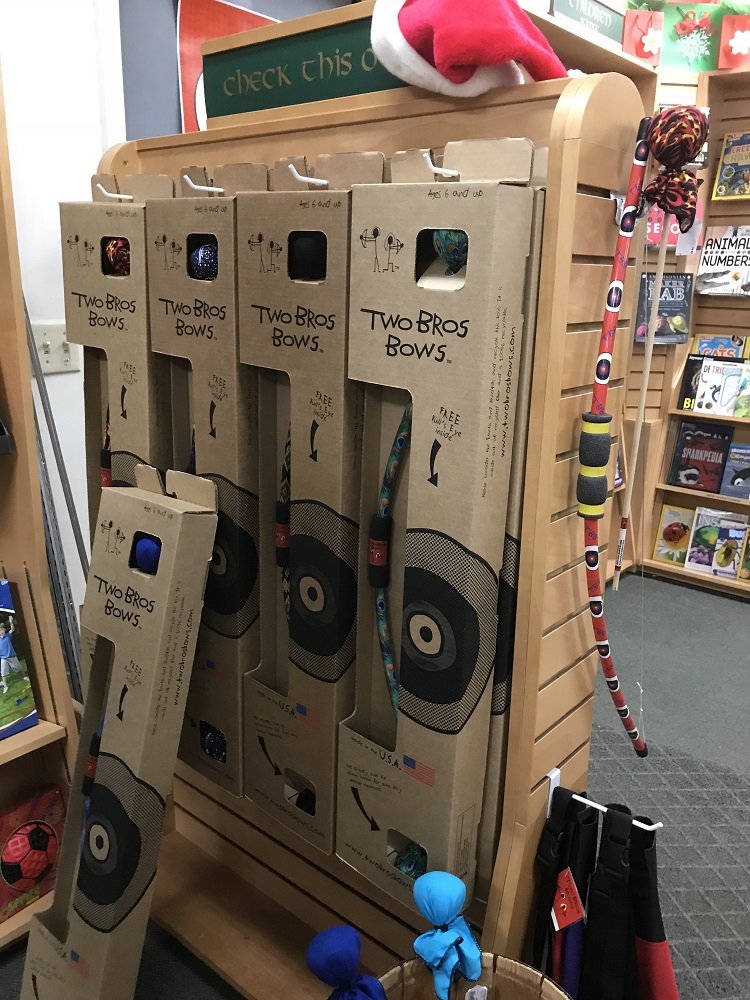 Two Bros. Bows display
Some small changes have been made on the floor, and Gerken is considering more. Innisfree is actually three stores, said Bev Newton, manager for 21 years. There is the adult general bookshop, the children's section and "other stuff," which includes cards and sidelines.

Fiction is the bestselling book category, and booksellers each have a full shelf for their picks. Remainders also do well, particularly cookbooks, children's and art books, and are sold both in a section in the store and on carts in the lobby entrance. The store does a lot of cross-merchandising with toys and books.

As at White Birch Books in North Conway, cards are very popular, along with LEGO. The most popular sideline right now is kid-friendly (and parent-friendly!) bows and soft arrows from Two Bros. Bows, which retail for $29.95. In the summer, the store does well with plush and activity kits.
The store has a small section with "f bomb products," mostly pencils, notecards and pouches. Newton noted, "10% of customers think it's freaking hilarious. 80% think they're cute but don't laugh. And another 10% pull me aside to say this used to be a nice bookstore."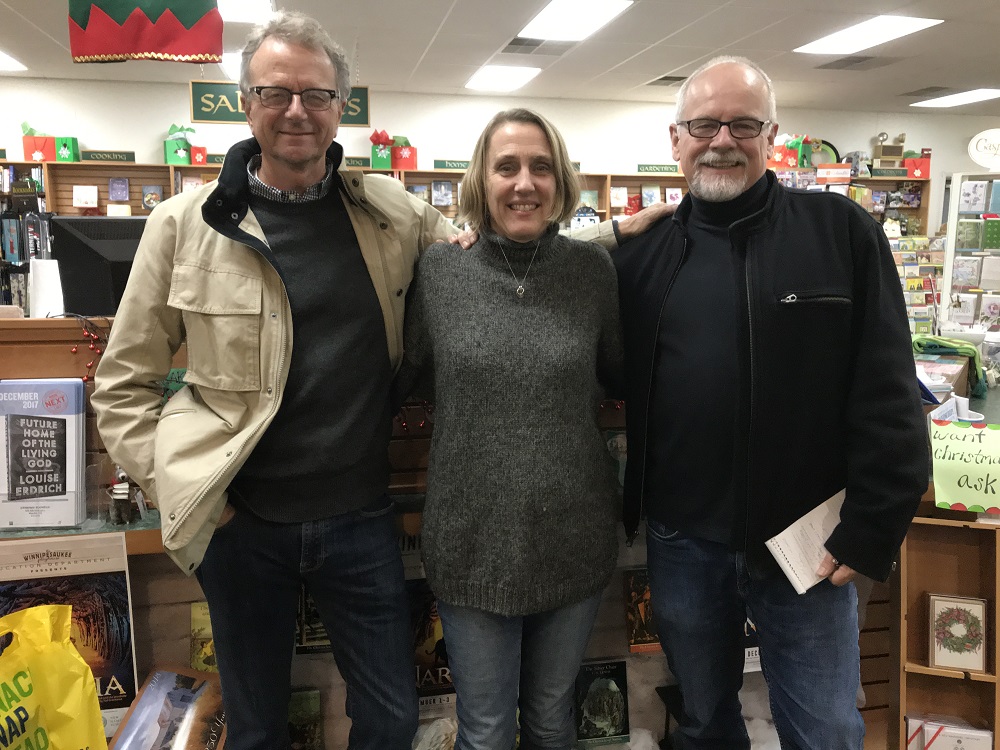 Steve Fischer, Casey Gerken and John Mutter
Summer is the "most challenging" time, Gerken said, when the area swells with summer people and tourists. "On a rainy day in July or August, we're jammed," Newton added. Still, the store has plenty of year-round customers as well as many people who have camps and come up at various times in the off season as well as during the summer.

A personal note: as always, NEIBA's Steve Fischer was a wonderful, generous host--and driver. With his retirement early next year, the association is losing a great leader, a savvy book person and an entertaining raconteur. Steve says he plans to stay involved in the book world, and I'm hoping that includes more bookstore tours! --John Mutter