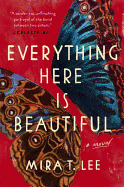 An expansion of a short story published in the Missouri Review, Mira T. Lee's debut novel, Everything Here Is Beautiful, explores the relationship between two sisters, the eldest committed to protecting her spontaneous, joyful but mentally unstable sibling.

Miranda Bok remembers coming to the United States from China with her pregnant mother, starting over in a new country without Miranda's father, who died before he could join them. Her mother always expected Miranda to look after Lucia, her seven-years-younger sister. Now grown women, their mother's death a fresh wound, the sisters try to cope with adulthood, but Lucia struggles. First, she surprises Miranda by marrying Yonah, a one-armed, functionally illiterate Russian-Israeli Jew who seems too coarse and ignorant for her sister. Nevertheless, Miranda comes to appreciate Yonah's kindness and sense of family when they become partners in caring for Lucia after the resurgence of a mental illness that plagued her in college.

Following a failed hospitalization, Lucia leaves Yonah, who does not want children, to have a baby with Manny, a young Ecuadorian immigrant. In the years that follow, Miranda tries to maintain her own carefully orchestrated life with her husband in Switzerland, while keeping a watchful eye over Lucia through Manny. Spread across the world, the family struggles to find beauty amid the chaos wrought by Lucia's episodes of mental illness and impulsiveness, sometimes related, always difficult to separate.

Miranda and Lucia's lives span multiple countries and cultures, including rural Ecuador, the close-knit immigrant communities of New York City and echoes of their family's ancestral homeland, China. Lucia's free-spirited personality and determination to achieve her dreams pulls the reader in, despite the constantly shifting compass of those dreams. One of several narrators, Miranda has the fullest picture of her sister's history and illness. Manny's baffled attempts to deal with Lucia's postpartum depression mature into an anxiety that she will stop taking her meds. Lee's choice to tell part of their early relationship from his point of view makes him equally sympathetic during its troubles. While Lucia's diagnosis varies by episode from schizophrenia to bipolar disorder, the specifics of the illness are beside the point here. Lee's spotlight illuminates the stress mental illness places on families, the difficulties of navigating the healthcare system--though the United States' proves better than Ecuador's--and the resilience of family, whether formed by blood or by love. Like Miriam Toews's All My Puny Sorrows, Everything Here Is Beautiful is filled with unexpected, fragile moments of beauty. --Jaclyn Fulwood, blogger at Infinite Reads

Shelf Talker: A free-spirited Chinese American journalist struggles with mental illness while her sister, lover and ex-husband try to support her.