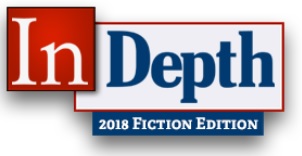 Describing the initiative as "a special project for 2018," Book TV on C-Span 2 will depart from its nearly 20-year-old nonfiction mission with a monthly In Depth: 2018 Fiction Edition series featuring 12 bestselling fiction writers, focusing on historical fiction, science and national security thrillers, and social commentary. In Depth, which debuted on Book TV in 2000, airs live on the first Sunday of each month.
Brad Thor, Jeff Shaara, Cory Doctorow, Geraldine Brooks and Walter Mosley have each agreed to spend three hours live at the In Depth interview table, discussing their craft, characters and the stories they tell. The interactive programs will allow Book TV's audience to ask questions via telephone and social media. Washington Post writer David Ignatius, author of 10 fiction titles, will kick off the special series on Sunday, January 7, at 12 p.m.
"This special year-long In Depth Fiction Edition gives us a different lens by which to view Book TV's typical fare of American history and national issues," said Book TV executive producer Peter Slen. "The 12 fiction writers we've selected for this project spend years researching their subject matter, developing high-level sources and they bring that expertise to the stories they tell.... We obviously also hope that this special In Depth series will introduce fiction readers to Book TV's unique long-form style of television programming and they will stay around for more."