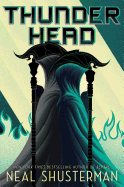 Readers are thrown back into the postmortal world of Neal Shusterman's Scythe in this high-speed sequel.

The scythedom is a society of individuals, beholden only to their own laws, that is charged with keeping the immortal population of the world at a sustainable level by choosing people to be "gleaned," or killed in a final, true death. Scythes have a tenuous relationship with the Thunderhead--the benevolent artificial intelligence that runs the world--that is much like mortal-age Merica's separation of church and state. The Thunderhead has dominion over the living; the scythes have dominion over themselves and death.

Citra Terranova has finished her scythe training under the "Granddame of Death," Scythe Curie, and is now a junior scythe. Scythe Anastasia, as Citra is now known, gleans in an unusual fashion: she visits the person to be gleaned and gives them a month to get their affairs in order. At the end of the month, the individual must return to Scythe Anastasia, at which point they will be gleaned in the manner of their choosing.

Rowan Damisch, who had been pitted against Citra for the scythe position, is on the run. He has illegally taken on the duties of a scythe, calling himself Scythe Lucifer, and gleans amoral scythes who abuse their power and status. While the scythedom "had, for many, many years, administered the quietus of death with a noble, moral, and humane hand," there is a new branch of the scythedom full of "dark hubris" and a "frightening pride... that finds pleasure in the act of taking life." It is the scythes who align with this "new order" that Scythe Lucifer seeks and destroys. The new order, however, is growing in power and popularity. They see Scythe Anastasia as something of a thorn in their side; Scythe Lucifer, however, is clearly someone who must be stopped.

Scythe Anastasia also has an uneasy relationship with Scythe Lucifer. Having trained side by side and then survived being pitted against each other, Citra and Rowan share an extremely strong bond. The last time they were together, "they both said the words they had sworn they'd never allow themselves to say. In the heat of that desperate but triumphant moment, he told her that he loved her, and she admitted to him that, yes, she loved him, too." Citra wants Rowan to be safe; Scythe Anastasia has a problem with Scythe Lucifer's methods.

Navigating this political and moral landscape is difficult but, as the scythedom becomes more fractious, Citra and Rowan find themselves facing ever greater danger. Readers will fly through this 500+-page novel, barely aware of the time passing as the stakes rise rapidly, and the plot races at a breathless pace to a massive cliffhanger. --Siân Gaetano, children's and YA editor, Shelf Awareness

Shelf Talker: Citra and Rowan find themselves at the center of a growing divide between scythes in this intense second book in Neal Shusterman's Arc of a Scythe series.