Selected new titles appearing next Tuesday, January 9: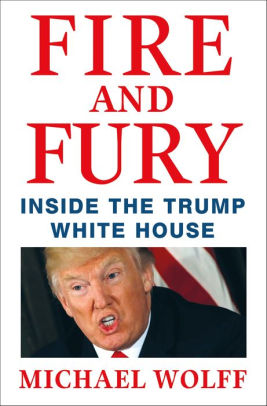 Fire and Fury: Inside the Trump White House by Michael Wolff (Holt, $30, 9781250158062) dredges the first nine months of Trump's presidency. (The book has caused some pre-pub fire and fury: yesterday the Guardian broke an embargo and ran excerpts featuring negative comments by Steve Bannon about the 2016 Trump Tower meeting with Russians ("treasonous"), to which the President responded that Bannon had "not only lost his job, he lost his mind.")
The Wife Between Us: A Novel by Greer Hendricks and Sarah Pekkanen (St. Martin's Press, $26.99, 9781250130921) is a psychological thriller about an ex-wife and her former husband's new fiancée.

The Immortalists by Chloe Benjamin (Putnam, $26, 9780735213180) follows four siblings who learn the date of their deaths from a psychic.

Emotional Success: The Power of Gratitude, Compassion, and Pride by David DeSteno (Eamon Dolan/Houghton Mifflin Harcourt, $28, 9780544703100) advocates using emotion to achieve success.

Single State of Mind by Andi Dorfman (Gallery, $25, 9781501174223) is the memoir of a reality TV star.

Rethinking School: How to Take Charge of Your Child's Education by Susan Wise Bauer (Norton, $25.95, 9780393285963) gives advice on navigating the K-12 school system.

Unearthed by Amie Kaufman and Meagan Spooner (Hyperion, $17.99, 9781484758052) depicts scholar Jules Addison and scavenger Amelia Radcliffe joining forces to unravel secrets of a long-extinct civilization.

Wolfie and Fly: Band on the Run by Cary Fagan, illustrated by Zoe Si (Tundra Books, $14.99, 9781101918234) is an early chapter book in which Fly convinces Wolfie to join his one-man band.

Paperback:
Midnight at the Bright Ideas Bookstore: A Novel by Matthew Sullivan (Scribner, $17, 9781501116858).