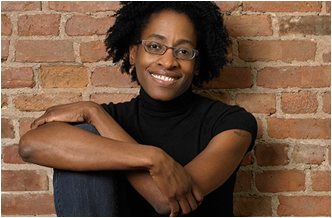 Jacqueline Woodson
Jacqueline Woodson has been named the National Ambassador for Young People's Literature. Woodson is a four-time Newbery Honor Medalist, Coretta Scott King Book Award-winner, former Young People's Poet Laureate and winner of the National Book Award in 2014 for Brown Girl Dreaming.

During her two-year term, Woodson will travel nationwide promoting her platform, "READING = HOPE x CHANGE (What's Your Equation?)," which encourages young people to think about "the moment they're living in, the power they possess, and the impact reading can have on showing them ways in which they can create the hope and the change they want to see in the world."

"I think the work ahead of me is challenging," Woodson said. "I don't believe there are 'struggling' readers, 'advanced' readers or 'non' readers. I'd love to walk away from my two years as Ambassador with the qualifiers gone and young people able to see themselves beyond stigma or oft-times debilitating praise. Martin Luther King Jr. said people should not be judged by the color of their skin but by the content of their character. In that regard, I think young people should not be judged by the level of their reading but by the way a book makes them think and feel. By the way it gives them hope. By the way it opens them up to new perspectives and changes them. I'm excited to have these conversations with some of the best conversationalists in our country--our young people."

Woodson's inauguration ceremony takes place next Tuesday, January 9, at 10:30 a.m. in the Library of Congress in Washington, D.C. Tickets are not required; the event is free and open to the public.

Sponsored by the Children's Book Council, Every Child a Reader and the Library of Congress, the National Ambassador for Young People's Literature program was founded in 2008 and "highlights the importance of young people's literature as it relates to lifelong literacy, education, and the development and betterment of the lives of young people." Previous ambassadors were Jon Scieszka, Katherine Paterson, Walter Dean Myers, Kate DiCamillo and most recently Gene Luen Yang.

Librarian of Congress Carla Hayden commented: "I have admired Jacqueline Woodson's work for years, especially her dedication to children and young-adult literature. The Library of Congress looks forward to Jacqueline's tenure of encouraging young readers to embrace reading as a means to improve the world."

Carl Lennertz, executive director of Every Child a Reader and the Children's Book Council, added that Woodson "embodies everything that we look for in this position and we can't think of a more passionate advocate for young people and for reading over the next two years."