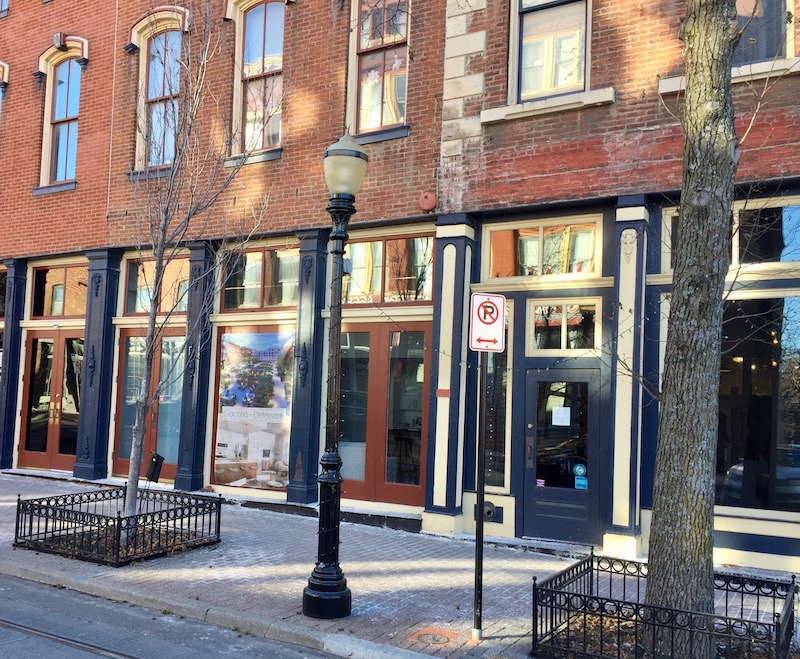 The future home of Our Daily Nada.
Attorneys Amy Covitz and Andrea Baca "are hoping to bring a little bit of Paris to Delaware Street" in Kansas City, Mo., next summer with the opening of Our Daily Nada, a bookstore, cafe and bar, CityScene KC reported. A June 15 opening is anticipated for the business, which will be located at 304 Delaware in the River Market. They signed a lease on the 2,600-square-foot space last month and will take occupancy in April. Our Daily Nada will feature new and used books; a wine bar, and local craft beers and craft cocktails; chef Carlos Mortera of The Bite in the River Market will prepare light fare.
Inspiration for the venture came from the legendary Shakespeare and Company bookshop in Paris, according to Covitz, while the name comes from a line in Ernest Hemingway's story "A Clean, Well-Lighted Place."
"Bookstores are coming back and bookstore bars are coming back in a lot of cities," Covitz said. "It's going to be a very European cafe circa the 1920s, Hemingway inspired. Very art deco with lots of reading spaces... a peaceful place to come to read and have a drink in a calm atmosphere.... It will be a general interest bookstore with a robust food section, art, fiction. We haven't solidified all the sections yet."
Covitz, who became friends with Baca in 2010 while working at a downtown law firm, began to consider starting her own retail business after helping her husband, Jeff, open the men's clothing shop Houndstooth. "I loved the process and I had this bookstore idea for 10 years," she said. After reaching out to Nicole Sullivan, owner of Denver's BookBar, she traveled there to learn about its operation. Covitz said she is also is a fan of Rainy Day Books in Fairway and the Prospero's Books on 39th Street.