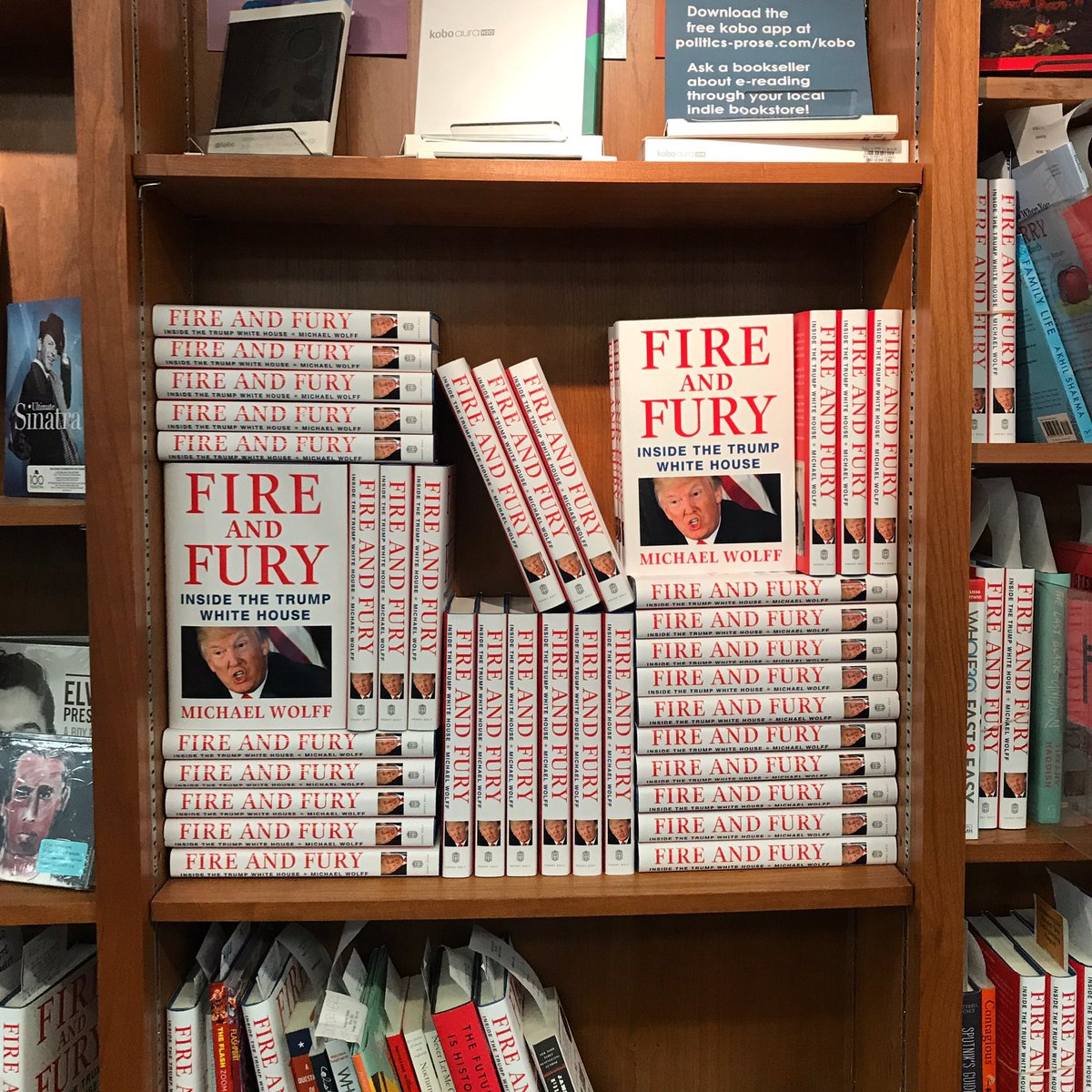 A fresh shipment of Fire and Fury at Politics & Prose, Washington, D.C., yesterday.
The search for copies of Michael Wolff's Fire and Fury: Inside the Trump White House has been an international as well as domestic challenge since the book's early release last Friday.
In the U.K., Waterstones received a "surprise" delivery of 20 copies to its flagship London Piccadilly store January 5 and "sold out within minutes," head of events and PR Sandra Taylor told the Bookseller. "Nothing about this is normal," she said. "I can't remember the last time a book had a cease and desist order, let alone from one of the most powerful men in the world.... Our pre-orders have been huge and interest is intense. In the shop, people keep asking if we have it, they are coming in just to request it."
Other retailers, including Foyles and Sainsbury's, were not expecting to receive stock until tomorrow. "We're following the U.S. and publishing as soon as we can, so our official publication date moves forward to today," a spokesperson for Little, Brown said Friday. "Stock is in transit and will be available as soon as it reaches stores."
Yesterday, the Bookseller reported that "interest in the exposé has continued over the weekend, with Trump continuing to criticize it, both on social media and in press conferences.... The effect has been to sustain public interest in the title, with booksellers inundated with requests for copies over the weekend and pre-orders reaching an all-time high."
"We are delighted with our sales of the book of the moment," said Kate Skipper, buying director of Waterstones. "Unsurprisingly we couldn't keep up with demand and ran out nearly everywhere, but we have plenty more on its way out to our shops. It appears that customer interest has far from peaked so are looking forward to fulfilling customer demand as the stock continues to flow through over the next couple of days. Little, Brown is continuing to do a fantastic job keeping up with a title which is quite unprecedented."
The chain's flagship Piccadilly branch was forced to block a number of people online after receiving abuse from Trump supporters on Twitter. "An unexpected bonus is discovering how useful Twitter's 'block user' option is after fans of the 'very stable genius' got in touch to tell us how delighted they are about the book," Waterstones tweeted Saturday.
Kieron Smith, digital director at Blackwell's, said, "I can't remember the last time a political book like this was so sought after. It is great fun for everyone in the bookselling world, to have a book come up like this which we were not really expecting. It's a good time of year for it to happen."
Nigel Wyman, head of business development for Gardners, told the Bookseller that the distributor has "no firm date but we are estimating Wednesday at the earliest before we get stock but hopefully we will get confirmation today. Sales-wise both the hardback and trade paperback have picked up some steady orders over the weekend."
Independent bookshops in the U.K. have also been under siege for copies of the mega-bestseller. "Fingers crossed it will be tomorrow but we've heard that before so it could be even later," reported Stoke Newington Bookshop, while Sheryl Shurville of Chorleywood Bookshop said: "It's been really annoying not having any stock. It's been in the press so much, it's a great opportunity for us to actually sell a book but we don't have any in stock yet. Bertrams are saying they'll have it by the 9th so we'll probably get it the day after."
A February 19 release is planned for Fire and Fury's German edition, Stern reported. The book will be published by Rowohlt Verlag, which, like Holt and Macmillan, is owned by Holtzbrinck Publishing Group. The publisher is currently working on the translation.
Raincoast Books distributes the title in Canada. "We have seen a surge of interest from all our customers, and the publisher has a very aggressive reprint plan underway," company v-p Jamie Broadhurst told Quillblog last week.
Many Australians will be able to pick up the book at major bookstores today, with some retailers having taken pre-orders, the Sydney Morning Herald reported, noting that Dymocks is releasing the book on January 9 in both hardback and paperback, while Abbey's Bookshop in Sydney was also expecting to have stock of the book by today. "Despite warnings it would interrupt the Australian retail market Amazon Australia will be one of the last places to release the book which it says it will release on January 19," the Morning Herald noted.
In New Zealand, Stuff NZ reported that distributor Hachette "is scrambling" to get the book into bookstores. Managing director Melanee Winder noted that with the early release, the last few days had been "a nightmare" in terms of logistics. Hachette had flown stock from Australia on Friday, she said, adding that the Australian printed copies were held up in customs, but should be in stores Tuesday. "We want as much as we can get. There are lots of reprints going through already. We've reprinted before stock has even reached shelves," she added.
Whitcoulls head book manager Joan Mackenzie said that when the release was brought forward, she requested early copies of the book for New Zealand, too, but the publisher was unable to get the book to the country any earlier than Monday afternoon.