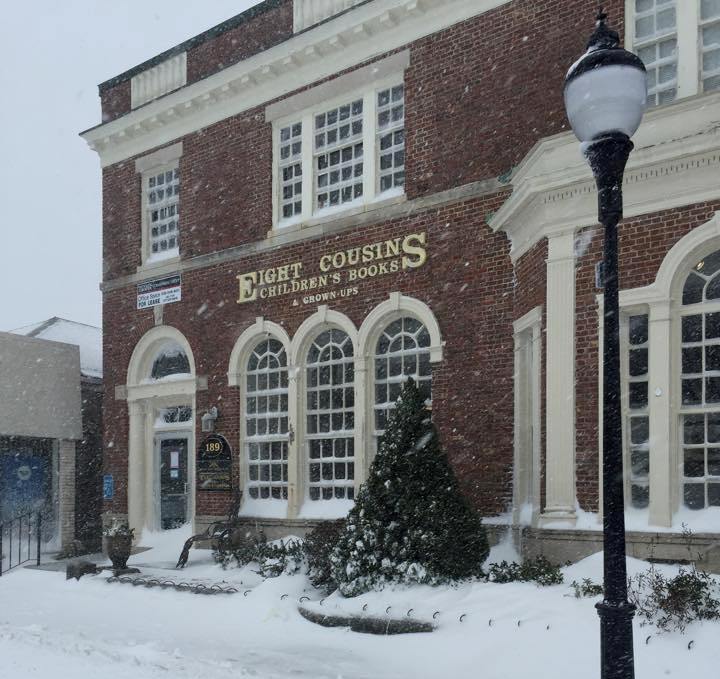 Very disturbing news from Cape Cod: Eight Cousins bookstore in Falmouth, Mass., is closed indefinitely. The store posted on Facebook, "We have SEVERE water damage." Reportedly the building's roof collapsed due to snow and ice.
In response to the announcement, there was an outpouring of concern and offers to help from customers and others on Facebook, where the store said it would post updates.
"For all our customers who need books in the next few days, please support our lovely independent bookstore neighbors," the store posted yesterday. "Titcomb's Bookshop in Sandwich and Market Street Bookshop in Mashpee will be happy to help you."

Sara M. Hines, Mary Fran Buckley and Eileen Miskell bought Eight Cousins three years ago from Carol B. Chittenden, who founded the store with her mother, Betty Borg, in 1986. Eight Cousins began as a children's bookstore but is now a general bookstore.
This is the third bookstore in the past week to report major water damage. The others were Greenlight Bookstore in Prospect Lefferts Gardens in Brooklyn, N.Y., which reopened last Friday after being closed for a day, and Quail Ridge Books, Raleigh, N.C., which reopened yesterday after being closed on Monday.