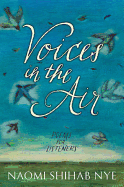 "In our time/ voices cross the sea/ easily/ but sense is still difficult to come by."

In the introduction to her poetry collection Voices in the Air, poet, essayist, anthologist and novelist Naomi Shihab Nye wonders, "[W]as life always strange--just strange in different ways? Does speaking some of the strangeness help us survive it, even if we can't solve or change it?" Each reader will have to answer that question for her or himself, but Nye's nearly 100 poems will certainly help all of us survive the strangeness in our lives. With her trademark conversational style, she feels like the sister you wish you had: warm, curious and insightful. She writes for and about the people who have inspired her: Peter Matthiessen, Townes Van Zandt, Rosa Bonheur, Bruce Springsteen, Israeli poets, Palestinian journalists, eco-activists, wives of writers, daughters of poets, hairdressers. (Happily, she also includes short bios of each in the back material.)

Nye implores readers to pay attention, to listen, to learn from history's lessons and today's accidents and tiny moments. She so clearly delights in the ordinary and everyday, even as she finds mystery and magic there. From "Time's Low Note": "A peony has been trying/ to get through to you/ When's the last time/ you really looked at one?/ Billowing pinkish whitish petals/ lushly layered/ Might be the prime object of the universe/ Peonies/ in a house/ profoundly uplift/ the house/ never say no/ to peonies."

The poems in this collection are suffused with humor and thoughtfulness. Nye, a National Book Award finalist (19 Varieties of Gazelle) and four-time Pushcart Prize recipient, is prolific and varied in her work. Her range is wide: short short stories (There Is No Long Distance Now), children's fiction (The Turtle of Oman) and, of course, a whole lot of poetry for all ages (Fuel; Red Suitcase; Transfer). Never content simply to describe, Nye's "lushly layered" poems always seem to ask something of the reader. In "Black Car," for Van Morrison, she writes, "Everyone still resonating, sliding/ saxophone, searing plume of joy that lit the hall,/ coating gilt ceiling, causing us all/ to rise, raise our hands./ What it is to carry a voice like that./ From side stage door to back seat of car./ Crowd still hovering cheers again,/ engine zooms into night./ Thank you. Thank you. Pressing the walk button/ we fly."

There's a political edge to many of her poems, some ("Anti-Inaugural," "I Vote for You," "Invitation to the NSA," "Big Bend National Park Says No to All Walls") more overt than others: "Just in case justice suddenly walks into the room and says,/ Yes I'm finally here sorry for the delay./ Tell me where to sign." Teen readers will love the gentle intensity of Nye's words and messages and the accessibility of her poetry. Beautiful. --Emilie Coulter, freelance writer and editor

Shelf Talker: National Book Award finalist Naomi Shihab Nye's smart and accessible collection of poetry asks teen readers to listen to all the voices--past and present--"floating around out there."