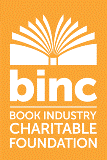 The Book Industry Charitable Foundation will accept applications for its annual Higher Education Scholarship Program from January 14 until March 5. Up to $109,000 in scholarships will be awarded to eligible bookstore employees/owners, independent bookseller association employees, former Borders Group employees, and dependents of any of the above. Detailed eligibility requirements, selection criteria and information on how to apply are available here.
The scholarships include 24 for $3,500 each, two for $10,000 each and one $5,000 Karl Pohrt Tribute Scholarship award, granted to an independent bookstore candidate "who has overcome learning adversity or is a non-traditional student." Since 2001, Binc's Higher Education Scholarship Program has awarded $1.9 million to more than 675 recipients.
"The Binc Higher Education Scholarship is just one of the ways we seek to create opportunities for booksellers to pursue their dreams," said executive director Pam French. "Helping to reduce the financial burden of college or trade school tuition for booksellers and their families is one way Binc can help fulfill our mission to strengthen the entire bookselling community."
This year, the minimum number of days a person must work in a bricks-and-mortar bookstore has been decreased. All current employees/owners and dependents of retail bookstores in the U.S. who have a minimum of 90 days of continuous employment are eligible. The bookstore must have a retail bricks-and-mortar presence in the U.S. and generate a substantial portion of its revenue from the sale of books. Eligible employees must be employed directly by the bookstore.
"In order to help as many booksellers as possible achieve their education goals, the decision was made to reduce the employment period to 90 days from the previous requirement of one year," French added.