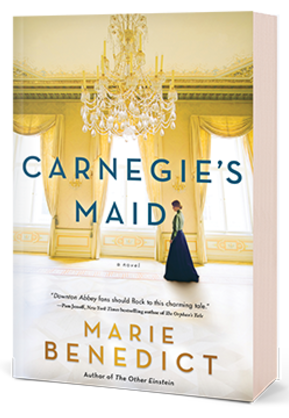 Sourcebooks has launched the "Love Your Library Like a Carnegie" campaign, which will give grant money to two nominated libraries and is inspired by the support librarians have given to Carnegie's Maid by Marie Benedict. The novel, which was selected as a January 2018 LibraryReads pick, tells the story of a brilliant woman who may have spurred Andrew Carnegie's transformation into a legendary philanthropist.
"Andrew Carnegie gave away $350 million to charities during the last several years of his life. Most of us can't commit to that much--but that shouldn't stop us from celebrating our libraries," said Margaret Coffee, national accounts manager for school & libraries at Sourcebooks. "Libraries are central to their communities and have enormous impact on readers' lives. Benedict's story and Andrew Carnegie's generosity has inspired us to create a campaign that will not only give back, but hopefully create some excitement and fun around that experience."
Anyone can nominate a favorite library here. Sourcebooks will award the two winning libraries $2,000 each. In addition, one voter will receive a $100 gift card, and 10 others will get a signed edition of Marie Benedict's first book, The Other Einstein. Voting is underway and runs until March 19, when the winning libraries will be announced.