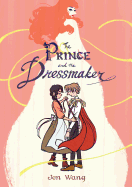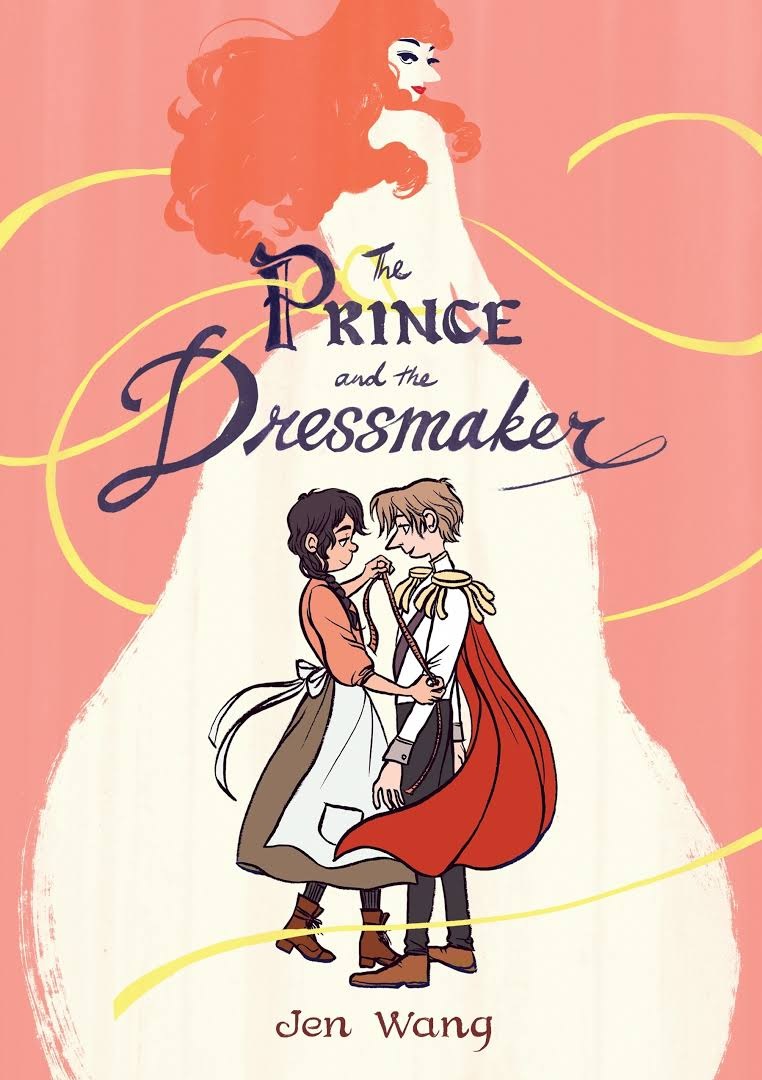 Jen Wang's graphic novel The Prince and the Dressmaker immerses readers in an aristocratic "Paris, at the dawn of the modern age," full of dazzling high fashion and high-stakes romance.

Frances is employed as a seamstress. She and her coworkers are swamped, busy redesigning and creating new dresses for the prince's ball the next evening. A woman comes in, desperate to buy a dress for her daughter--"She absolutely ruined her gown last night by going riding in the woods!"--and Frances is put on the job. "Would the lady like her dress identical to the old one or completely new?" Frances asks Lady Sophia Rohan, the daughter of the client. "You know what," the annoyed young woman responds, "just make it ghastly. Make me look like the devil's wench."

Frances works all evening, until inspiration strikes. A series of three panels shows Lady Sophia's surprised, excited response to seeing the dress for the first time. A quick cut to the ball, and Lady Sophia struts in, looking not unlike an 18th-century version of Natalie Portman's character in Black Swan, feathers and all. The court is scandalized. But the prince....

Prince Sebastian has a secret. Sixteen and heir to the throne, Sebastian knows he must marry soon and take on the responsibilities of the monarchy. He also knows that "[i]f anybody found out the prince wore dresses, it would ruin the whole family," but he feels the most comfortable, the most himself, when dressed in women's clothing. Prince Sebastian sees Lady Sophia's extraordinary gown and hires Frances to be his secret personal seamstress and designer.

And so, Frances begins covertly designing for Prince Sebastian. The more she works, the more she grows and develops her own style, enthusiastic about this chance and hoping it will lead her to "someday be a great designer." Prince Sebastian, in turn, grows more confident and begins to step out in Frances's gowns under the pseudonym Lady Crystallia. Crystallia becomes a trendsetter with her avant-garde couture, which should mean big things for Frances. But no one can know that Prince Sebastian is Lady Crystallia--Sebastian insists that Frances's connection to him must be kept secret at all costs, including her hoped-for future in high fashion.

Jen Wang's (In Real Life) first solo endeavor for young readers is downright charming, depicting two teens finding themselves and their paths in a patriarchal and heteronormative world. Frances and Prince Sebastian's growing relationship is treated with great care, as are the problems each of them faces. Wang's illustrations are expressive and full of movement, the panels of the novel moving the story swiftly along as the characters break free from their borders and commandeer half and full pages for themselves. The Prince and the Dressmaker is a gentle, sweet-without-the-saccharine graphic novel for middle grade readers that depicts the great happiness and love that can come with self-acceptance. --Siân Gaetano, children's and YA editor, Shelf Awareness

Shelf Talker: A seamstress finds her vision and a young prince gains confidence in himself when the prince hires the seamstress to design his dresses.