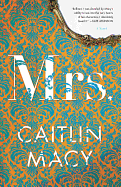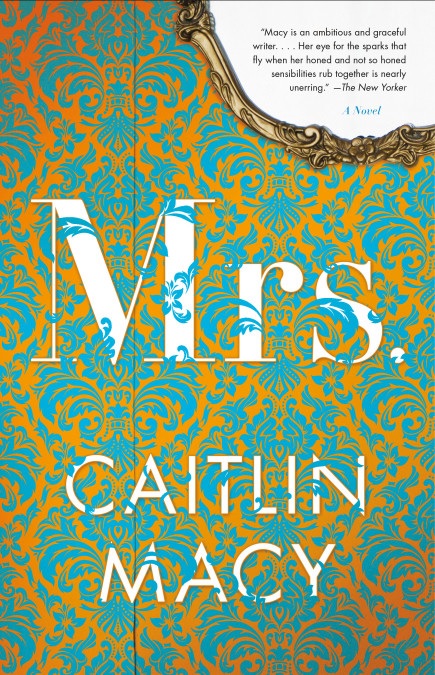 There are not many ways to acquire wealth and privilege: inheritance, marriage, investment, entrepreneurship, luck, crime and fraud. In Caitlin Macy's novel Mrs. (and similarly in her earlier novel The Fundamentals of Play and story collection Spoiled), the path to riches includes them all--except the traditional American shibboleth of hard work and invention. The roles of women in Macy's world (and women overwhelmingly dominate the narrative) are largely defined by their mates (Mrs.) and their children (Mom). They gather and gossip during school drop-off and pick-up at Manhattan's St. Timothy's ("it was no longer clear whether St. Tim's the Preschool was still Episcopalian, or even Christian.... Christian suggested Jesus a little too pointedly for this parent body.") They eye each other's fashions, limos, nannies, husbands and children's behavior. Theirs is "a society that ran on Lycra and imported Labradoodles."

Endlessly fascinating, the world of the wealthy has had a place in the arts forever. Macy's snappy rom-com dramedy style may be compared with the TV series Billions or Big Little Lies. To paraphrase Tolstoy, however, every wealthy family is wealthy in its own way. With sharp observation and smart prose, Macy chisels these stereotypical baubles into distinctive jewelry. The three women at the center of Mrs. have their own concerns and histories, even as they sail the world with their husbands' hands on the tiller.

Philippa Lye appears at morning drop-off "nearly six feet tall... those cheekbones, unconciliatory in the extreme; the arrogant jutting triangle of a nose." She has a past and she drinks; her husband is an old-money investment banker. After a crippling miscarriage, Gwen Hogan has only one child and gave up a career as a Ph.D. chemist to raise her daughter. Her husband is a prosecutor in the U.S. Attorney's Southern District of New York who lives to send slippery billionaires to prison, but frequently wonders if he shouldn't go white-shoe private for the big bucks. Minnie Curtis ("shining hair of the darkest near-black brown and wonderfully white, perfect teeth... a little cheesy, the way she was made up, pink blush and glossy lips, but it worked") married up to an ambitious sleazy hedge fund magnate--a bottom-feeder, a "benthic organism trying to transform himself into a top-level carnivore."

The plot, to the extent there is one, heats up when Gwen's husband's office launches an investigation implicating Philippa's and Minnie's husbands. Marriages and friendships are tested as Macy dexterously reveals the flesh and blood beneath her characters' branded fashions, the lies and cover-ups behind their public personae and the sensitive maternal attachment undergirding their ambitious childrearing. Mrs. is a well-observed story of the precarious social network of today's wealthy--a strong addition to the large catalogue of fiction about those with privilege and pedigree. --Bruce Jacobs, founding partner, Watermark Books & Cafe, Wichita, Kan.

Shelf Talker: Caitlyn Macy's novel of New York City's wealthy may fall into a long legacy of similar literature, but its sharp focus on monied women finds its own niche.