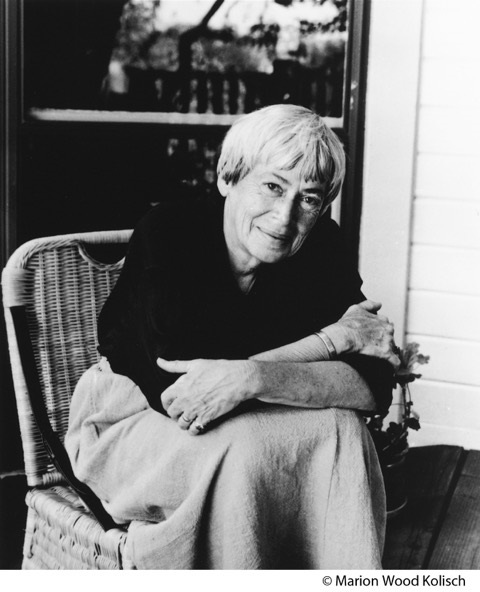 Ursula K. Le Guin, "the immensely popular author who brought literary depth and a tough-minded feminist sensibility to science fiction and fantasy," as the New York Times put it, died at her home in Portland, Ore., on Monday. She was 88 and had been in poor health for several months.

She wrote more than 20 novels, a dozen books of poetry, more than 100 short stories, seven collections of essays and 13 children's books. She also translated five books and wrote a guide for writers. Among her best-known works were The Left Hand of Darkness (1969) and the Earthsea series.

"Le Guin embraced the standard themes of her chosen genres: sorcery and dragons, spaceships and planetary conflict," the Times wrote. "But even when her protagonists are male, they avoid the macho posturing of so many science fiction and fantasy heroes. The conflicts they face are typically rooted in a clash of cultures and resolved more by conciliation and self-sacrifice than by swordplay or space battles....

"Le Guin's fictions range from young-adult adventures to wry philosophical fables. They combine compelling stories, rigorous narrative logic and a lean but lyrical style to draw readers into what she called the 'inner lands' of the imagination. Such writing, she believed, could be a moral force."

Le Guin was wonderfully direct and outspoken in her commentary on society and modern life--and the book world. In 2014, when she won the National Book Foundation's Medal for Distinguished Contribution to American Letters, Le Guin said she was sharing the award "with all the writers excluded from literature for so long--my fellow authors of fantasy and science fiction, writers of the imagination, who for the last 50 years watched the beautiful awards go to the so-called realists. I think hard times are coming when we will be wanting the voices of writers who can see alternatives to how we live now and can see through our fear-stricken society and its obsessive technologies to other ways of being and even imagine some real grounds for hope. We will need writers who can remember freedom--poets, visionaries, the realists of a larger reality."

She added: "Books are not just commodities. The profit motive is often in conflict with the aims of art. We live in capitalism, its power seems inescapable--so did the divine right of kings. Any human power can be resisted and changed by human beings. Resistance and change often begin in art and very often in our art, the art of words."
Last December, in a q&a in Shelf Awareness, for No Time to Spare: Thinking About What Matters, an essay collection, she was asked, "What works of fantasy present a realistically complex vision of a world in balance (or of female solidarity)?"

She answered: "Trying to think about this, I realized that I was not coming up with any fantasy that presents a realistically complex vision of a world in balance, maybe because we are so unbalanced at this point that imagining a real balance, even if fantasy, is not possible.

"As for a world of feminine solidarity, that is questionably desirable: solidarity is something you call on in defense or when attacking. I would like to imagine a world of genuine equality, without stupid gender wars and battles of the sexes, where women did not have to consolidate against men or vice versa. I tried to sketch such a world in The Dispossessed. But I don't think I could write that book now."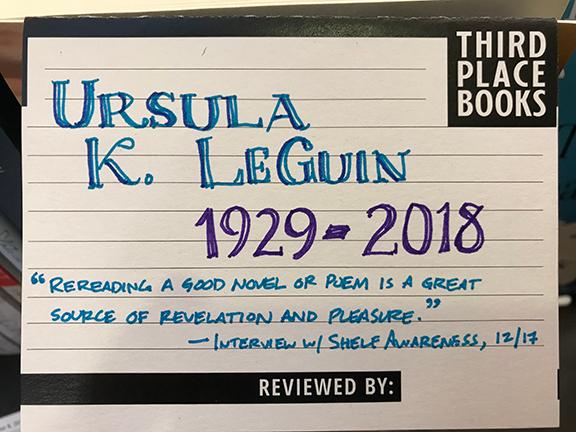 Third Place Books, Seattle, assembled a display of Le Guin titles that included this quote from a recent Shelf Awareness interview.
There were many tributes from the book world.
Naomi Gibbs, Le Guin's editor at Houghton Mifflin Harcourt, which published No Time to Spare, commented: "Working with Ursula was a privilege, an honor, and a tremendous joy for me, and for many here at HMH and elsewhere in the industry. She was an unparalleled writer who lived an extraordinary life. She's leaving behind an incomparable body of work, and her remarkable spirit."
Powell's Books, Portland, Ore., wrote: "Portland author and perennial Powell's staff favorite Ursula K. Le Guin passed away on Monday at the age of 88. Renowned for her gorgeous and deeply intelligent contributions to the science fiction and fantasy genres, Le Guin was also a pithy observer of American culture and a fierce advocate for freedom of expression. Rest in peace, Ursula K. Le Guin. Powell's and readers everywhere will miss you."