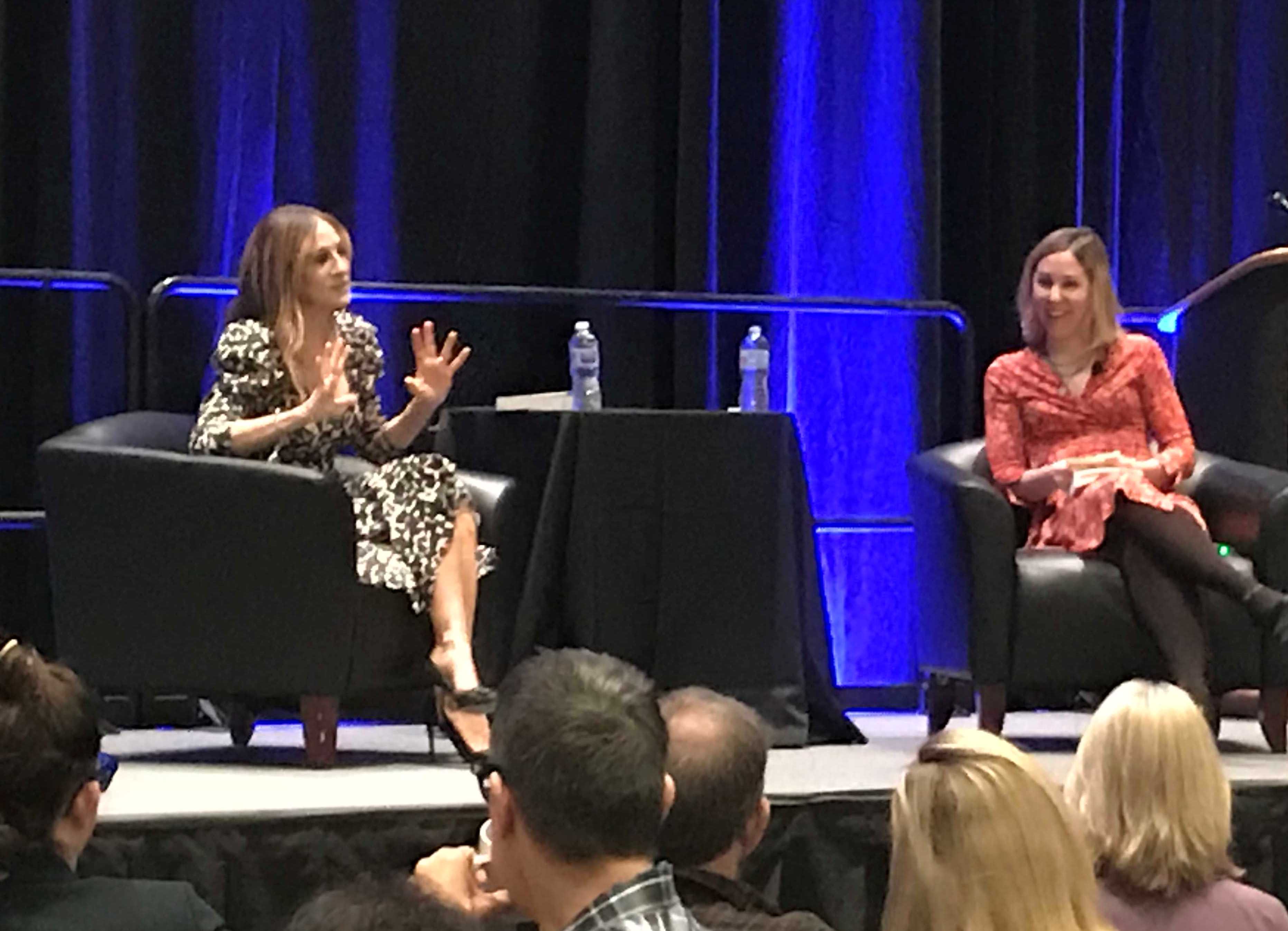 Sarah Jessica Parker (l.) chatted with Pamela Paul at breakfast yesterday.
"Sarah Jessica is a book person. She is one of us," said Pamela Paul, editor of the New York Times Book Review as well as all book coverage for the Times, to open Tuesday's Wi13 Breakfast Keynote. Paul interviewed actress, producer, designer and lifelong dedicated reader Sarah Jessica Parker, who recently launched SJP for Hogarth in partnership with Molly Stern, publisher of Crown and Hogarth.
"I'm so happy to be here. I'm jealous of the people who've been here for 13 years," Paul said, adding that she recognized Parker as a member in good standing of the book community the first time they met during a PEN Gala: "She was like, 'Oh my God! You're the editor of the New York Times Book Review?' She was excited about that. So I knew she was a book person."
In response to the first, and logical, question about adding the SJP for Hogarth editorial role to her already packed life schedule ("Why take this on?"), Parker said, "I never thought I would be involved or invited into your world... into the world of publishing." The initial spark occurred a few years ago when, after a lunch conversation, Stern sent her a box of books, including the ARC for Anthony Marra's A Constellation of Vital Phenomena.
"I read that book, and I wasn't even 50% through it when I was just gobsmacked," Parker recalled. "I couldn't believe what I was reading. I was so taken with the skill and the writing and the heart, the humor that he could find, but also the choices of story... I called Molly and I said I don't know if I could ever do something to be helpful, but this is an important book. This might be one of the great books I've ever read in contemporary fiction."
That discussion and the launch of Parker's well-known book club are two of the threads that eventually led to Stern asking if she would ever consider an imprint. "I said, no, I couldn't possibly. It was too daunting," Parker noted. "I didn't feel deserving. But they convinced me that, with some counsel and the help of great folks like [editor] Lindsay Sagnette I could find my way. With their guidance and mentorship, I have. It's been the privilege of a lifetime, and in large part it's for my mother, who made us all readers."
Reading was her mother's passion and obsession: "We didn't have a television growing up, so we read. And even when we couldn't read, we were required to have a book with us.... We just always left the house with something to read"
When asked what type of books she is hoping to publish, Parker said she is "always looking for the unfamiliar. I think the easiest way to describe it is I always like global voices because I feel like they take me to a world, especially when well written, that I just don't know."
The imprint's inaugural title, Fatima Farheen Mirza's debut novel, A Place for Us, passed a stern quality test. "A Constellation of Vital Phenomena became the literary standard by which I judged other books in the literary space," Parker observed. "It was a clear marker. And very soon into the manuscript of A Place for Us I knew this is very special; this is important; this is timely; this is a really exquisite, big and intimate and important story. The voice is so much her own and so fresh....
"We think it does tell the story of what we're trying to do with this small and beautiful imprint. Hogarth has a very important history. It's important to me. I mean to do right by this opportunity, and I think Fatima's story makes it clear very quickly what my intentions are."
The conversation ended, appropriately enough, with Paul asking about the role of indie bookstores in Parker's life. "Where to begin," she replied. "I think of them as the beacon in the community. I think of them as the connector. I just think they're a particular kind of shelter that is unique and necessary."
Her local indie is Three Lives & Company in Greenwich Village. "I walk by the bookstore all the time with my daughter and she'll say, 'Oh, the last time we were here you bought...' and she'll name a book. And I'll say, 'No, that was the last time I was here with you.' I think bookstores are often what holds our communities together.... I'm so grateful for ours because it's just a part of our life." --Robert Gray