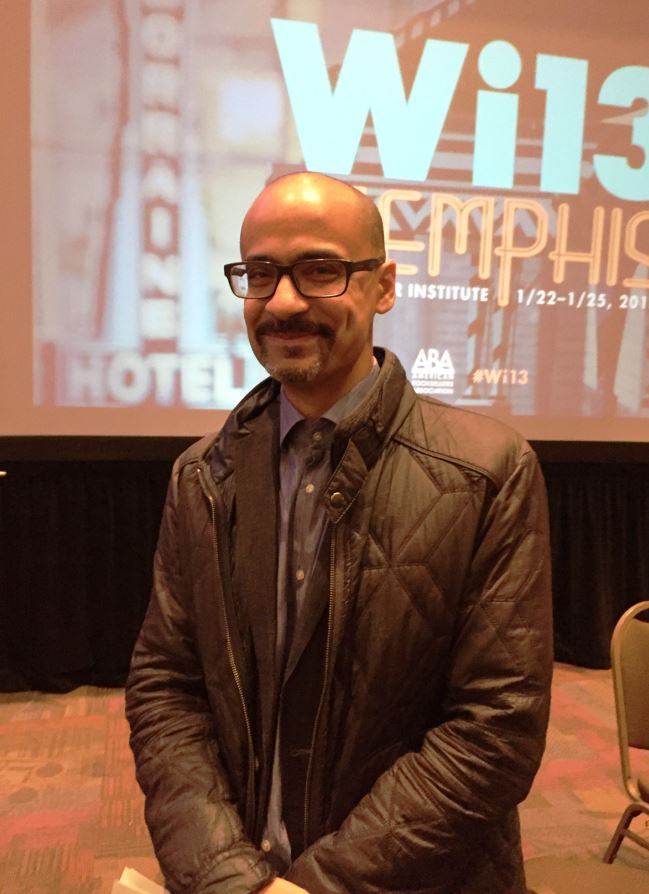 Junot Díaz
Valerie Koehler of Blue Willow Bookshop, Houston, Tex., introduced Wednesday's Wi13 Breakfast Keynote speaker, "beloved novelist" and Pulitzer Prize winner Junot Díaz. Islandborn (illustrated by Leo Espinosa, available from Penguin March 13), his debut picture book, is, in her words, "a celebration of creativity, diversity and our imagination's boundless ability to connect us."
The breakfast of nearly 1,000 booksellers and publishing representatives marked Díaz's first time speaking at the Winter Institute. "It's a great honor," he said, "to meet the people who made me possible." He began by giving a quick "genre of gratitudes" to the booksellers both present and not, to his publisher and to the bookstores he referred to as his own: Bunch of Grapes and Edgartown Books on Martha's Vineyard in Mass.; Harvard Book Store, Cambridge, Mass.; Trident Books, Boston; New York City's Three Lives & Company and Word Up Community Bookshop/Librería Comunitaria; and Singapore's BooksActually. "If it hadn't been for the curatorial devotion of independent bookstore sellers, my art would perish."
After expressing his gratitude, Díaz read prepared remarks. His speech was a deeply personal account of his childhood relationship with books and his inability to find himself in them. His family emigrated from the Dominican Republic to the United States in 1974, settling in Parlin, N.J., "on the bleeding edge of Bon Jovi-level whiteness." He explained that his family were the first Dominican people in the neighborhood and not welcomed: "The white supremacy... was all day every day for us immigrants of color where white folks could say anything to us without any kind of repercussion."
Having "arrived in the United States completely illiterate," Díaz said that, "if it hadn't been for the kindness of librarians," he probably wouldn't have found books. But he did. "Books became my shelter against the white world that sometimes felt like it was trying to destroy me." Yet, while the books saved, they also alienated him. As the world in which he lived told him his very existence was weird or wrong, his books either agreed with the greater world or acted as if he didn't exist at all: "what really killed, was the erasure. God almighty, the complete and utter erasure. How thoroughly kids like me did not exist in our books."
This desperate desire for representation in children's literature is what drew Díaz to writing for a young audience: children of color still "live out milder versions of what I endured in my childhood." He is working to "decolonize the shelves" and asked the audience to do the same. "Bookstore owners and librarians are on the front line. It's the smallest intervention that can sometimes create the most important, lasting change." He finished his speech to a standing ovation: "I wrote my children's book, Islandborn, because I believe there are things immigrants can teach that we all need to hear without which we will never understand this stolen land we inhabit."
You can watch his keynote here. --Siân Gaetano