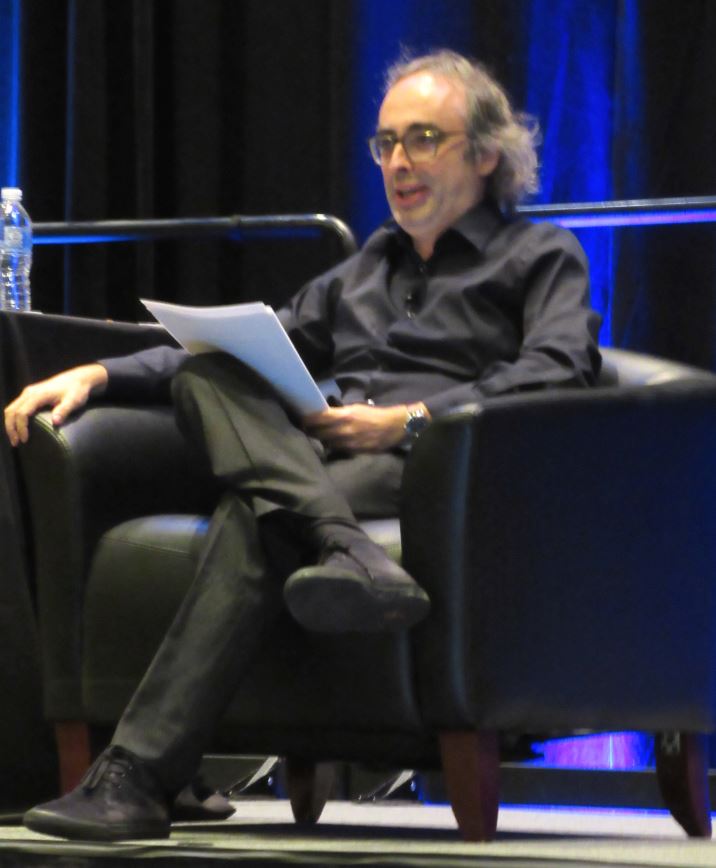 Gary Shteyngart: "I love you guys."
Gary Shteyngart, whose upcoming novel is Lake Success (Random House, September), entertained and inspired booksellers yesterday during his Wi13 afternoon keynote.
He opened by describing his bookselling audience with a Shteyngartian blend of images: "This is great. Seeing so many booksellers in one place is like taking a bath with a warm glass of milk in one hand and a glass of whiskey in the other. I think at this point you're performing a kind of civilizational duty, like the monks during the Middle Ages. You're all that stands between us and complete darkness."
After recommending five Memphis barbecue joints, Shteyngart said, "I've always loved bookstores, almost as much as barbecue. I spend a lot of my time in the country surrounded by sheep in upstate New York, where I write my books. It's frozen more than half the year. And my favorite part of the year is just wallowing through the snow to duck into Spotty Dog Books & Ale in Hudson or Oblong Books in Rhinebeck and just seeing all the new releases and remembering that we still live in a world of thoughts and feelings."
Noting that some people believe literature has had its day and technology is now ascendant, Shteyngart offered an alternative view: "To me writing is this insane Vulcan mind meld technology that lets you live inside the mind of another human being in a way that nothing else can. Not TV, not film, no other medium, not even the Intertube.... Reading stretches the empathy muscle, and my god we all need that muscle stretched these days more than ever."
He also shared the two secrets to being a writer, beginning with the requirement that one be asthmatic. He cited his own childhood, in a Leningrad without inhalers, as character building and now oddly part of the Shteyngart brand--people show up at his events with inhalers to be signed. "I've noticed a lot of asthmatics in Seattle," he added. "Elliott Bay and Third Place should have like a curated inhaler section."
The second secret is having a grandmother who writes. His was a journalist in Russia who used to give him a piece of cheese for every page he wrote. His first childhood novel, Lenin and His Magical Goose, netted him 100 pieces of cheese.
Shteyngart loves book tours: "I like my readers so much. They're so anxious and scared. I'd be shocked if I wasn't somehow related to half of them." His favorite compliment came at an event in Chicago, where a woman called him the Russian Judy Blume. "That's going on my tombstone," he said.
The primary story in Lake Success, a journey by Greyhound bus across the U.S., was inspired by the 50 stores he visited during his book tours. This also prompted him to take a Greyhound trip across the country himself, with one of the lessons he learned being: "Wherever there was a sense of community, there was joy. Whenever there was literacy, there was hope."
Citing Philip Roth's classic observation about life in Eastern Europe during the Cold War ("There nothing goes and everything matters. Here everything goes and nothing matters."), Shteyngart said, "When I hear that more independent bookstores are opening up around the country, I think people are saying no to that sentence. People are saying that they still matter.
"The very act of putting down your phone, turning off your Twitter, going to a bookstore, talking to a bookseller, and then being treated to a quiet, private space.... that becomes a political statement. Not one as fraught as when my parents passed around samizdat books in Leningrad, but just as important, just as sacred and just as capable of changing the world around us.... I love you guys. Keep those bookstores open. Open more bookstores. If you ever need me to read, I'll come to you." --Robert Gray