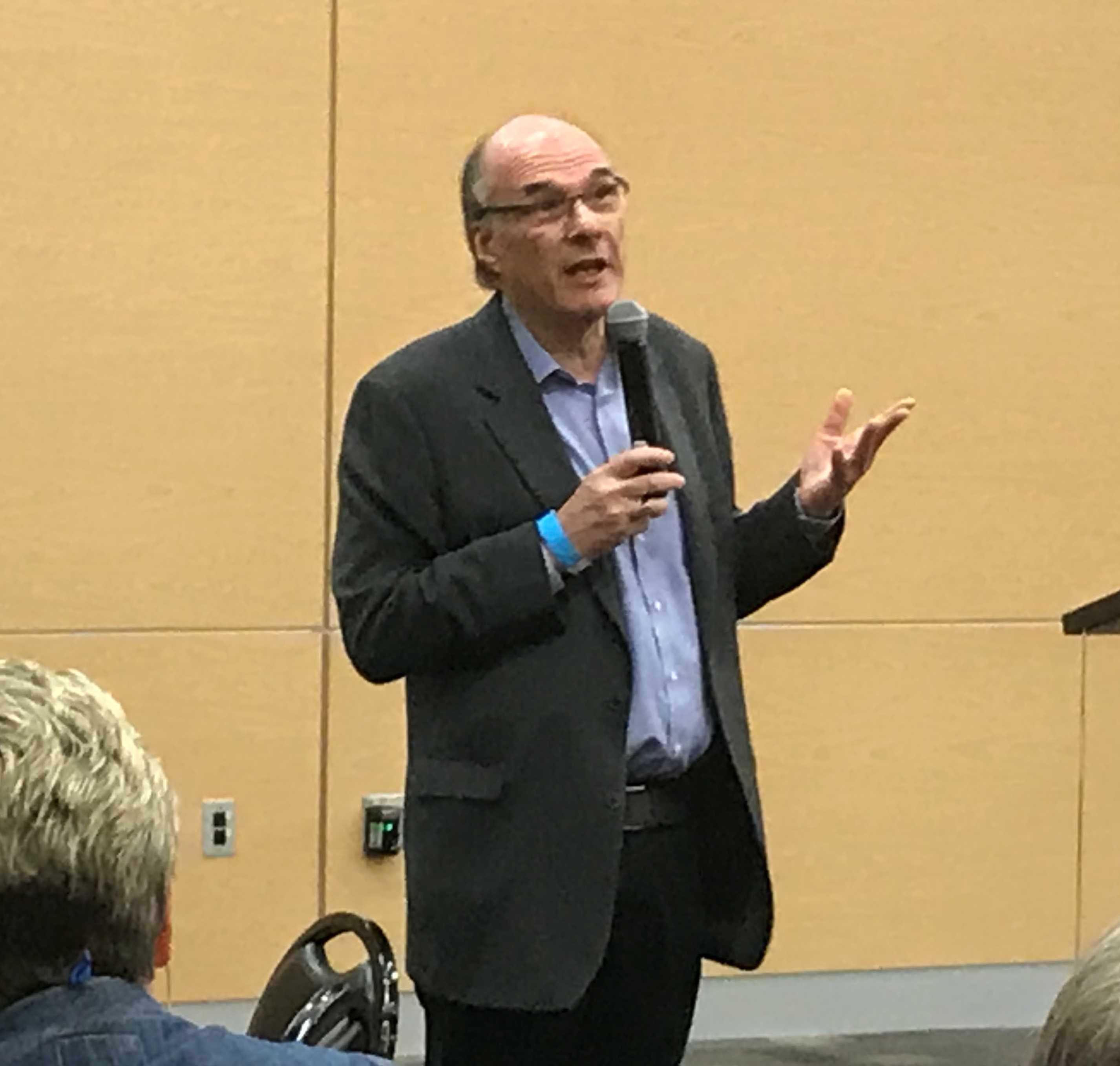 Oren Teicher
At Tuesday's breakfast, ABA CEO Oren Teicher reiterated the positive sales news for indies last year, including a rise in sales of books at indies of 2.6% and a compound annual growth rate of 5.4% over the past five years. In addition, he noted "a significant increase in sales" of titles featured on the Indie Next Lists after the introduction of electronic versions, powered by Shelf Awareness. This shows, he stated, that booksellers' recommendations "continue to drive sales."

Other good news included that new indies continue to open and established stores continue to open branches. Some 40 new stores opened last year.

The ABA recognizes that not all communities are seeing such growth, and Teicher said the association is committed "to doing all that we can" to help prospective booksellers, especially in underserved communities. Another priority is ongoing advocacy for a level playing field as more and more consumer spending shifts online.

Teicher also highlighted the five-year study that Ryan Raffaelli, an assistant professor at the Harvard Business School, has done on the resurgence of indie bookstores. (Preliminary findings were released last November; the full report will be released later this year.)

Key factors are what Raffaelli calls the "3 Cs": community, curation and convening. As Teicher put it, they are "your unique ties to your community; your unparalleled ability to connect readers and authors; and all the innovative work that you're doing to create the myriad events that bring customers to your stores, where they can strengthen that connection not only with authors and fellow readers, but, most importantly these days, with neighbors and friends."

Teicher also underscored the value that booksellers bring to books. A sobering fact is, he said, "when a customer purchases a book from you, not one word in that book is different from the same title purchased elsewhere." But, "we would argue that in a very fundamental way, it is not the same book." Jorge Luis Borges put the concept well, Teicher said: "A book is not an isolated being: It is a relationship, an axis of innumerable relationships." In other words, "A book only becomes fully alive when it is shared. And that's what you guys do and do nationwide every day."

And despite a range of technological and other changes, "you are continuing to find new, fun, and innovative ways that you can help your customers."

Raffaelli has found that that ABA has been able to strengthen "the collective identity of the indie bookstore community," especially through education and professional development, exemplified by the Winter Institute. Education continues to be "a critical goal" of the association, Teicher stressed.

Teicher enumerated a variety of challenges for indie bookselling, including the ongoing fight for e-fairness, "21st-century solutions to antitrust enforcement," working with publishers to develop sustainable business models for indie bookselling, improving bookseller education, and "doing everything we can to make this industry more diverse." These are all major continuing objectives of the ABA.

He added: "Your being here today and your ongoing involvement is a clear sign that together we're going to meet these challenges. As I've said before, I don't believe anybody could spend a few days here at the Winter Institute and not go home convinced that the best days of independent bookselling are ahead of us."
---
In a poignant personal note, Teicher, whose wife, Alison Greene, died in October, expressed his "thanks and gratitude to my extended ABA family for all of the extraordinary support and love that you've shown me these past months. It's been a difficult time for me, but I can tell you that the love I've felt certainly in these few days here in Memphis and over the last few months has really been indispensable to sustaining me during this difficult time."