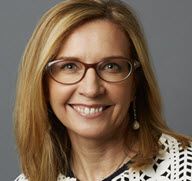 Judith Curr
After 19 years with Simon & Schuster, Judith Curr has decided to leave her position as president and publisher of the Atria Publishing Group, effective immediately, S&S said yesterday. While a search is underway, Peter Borland and Suzanne Donahue will oversee Atria's editorial and publishing activities.
In a letter to S&S staff, president and CEO Carolyn K. Reidy wrote: "Smart, creative, personable and always keen to try out new ideas and methods of publishing, Judith was also deeply committed to bringing new and underserved voices to readers and has been a true champion of diversity both on her staff and on Atria's lists.... I know you will join me in thanking Judith for her many contributions to Atria and Simon & Schuster."
Curr joined the company in 1999 as president and publisher of Pocket Books. In 2002, she became the founding publisher of Atria Books, and in 2012 was named to her most recent position.
"During her time here, Judith was particularly adept at identifying trends and cultural phenomena and then publishing to satisfy a readership that did not exist previously," Reidy noted, citing Rhonda Byrne's The Secret as "perhaps the most impressive example of her 'publisher's intuition'.... Under Judith's direction, Atria has developed a diverse and eclectic roster of well-known and bestselling authors."