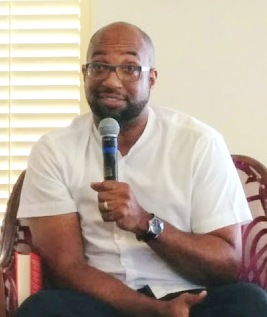 Kwame Alexander
Kwame Alexander, the poet, educator, Newbery Medalist and bestselling author of 25 books, is heading a new imprint called Versify for Houghton Mifflin Harcourt's Books for Young Readers group. Versify will publish "innovative creators with fresh stories," reflecting Alexander's vision that "accessible and powerful prose and poetry--in picture books, novels, and nonfiction--can celebrate the lives and reflect the possibilities of all children," according to the publisher. Seeking new authors and artists as well as established writers and illustrators, Versify will publish works that "explore the beauty, hurdles and hopefulness of life... books that will engage, entertain, and empower young people to imagine and create a better world."
Working with Alexander will be his editor Margaret Raymo, a longtime HMH senior executive editor; Erika Turner, editorial project manager; and an advisory council of students from across the country.
"I get asked what will make Versify different from other imprints," said Alexander. "The truth is we are not reinventing publishing. It's the same ingredients in our kitchen as everyone else's: we want to publish books for children that are smart and fun, that inform and inspire, that help children imagine a better world. My goal is just to make sure there are more chefs in the kitchen, more voices in the room, that create unique and intelligent entertainment that electrifies and edifies young people. So yes, I too am looking for the next Mo Willems and Jacqueline Woodson. It's just that I plan to look far and wide in places unseen to most. As Langston Hughes said, 'Life is a big sea full of many fish. I let down my nets and pull.' "
Versify launches in spring 2019, with an inaugural list that will include This Is for Us, a picture book by Alexander and illustrator Kadir Nelson that pays tribute to the sacrifices and triumphs of African Americans; The Last Last-Day-of-Summer, a middle-grade "modern day Phantom Tollbooth" by Lamar Giles, founding member of We Need Diverse Books; ¡Vamos!/Let's Go!, the first in a new bilingual picture book series by illustrator Raúl the Third; and White Rose, a YA novel in verse about Nazi resistance leader Sophie Scholl, by YARN poetry editor Kip Wilson.
"We're thrilled to partner with Kwame on Versify," said Catherine Onder, senior v-p and publisher of HMH Books for Young Readers. "From The Crossover to his international touring to his extensive literacy work with students and teachers, he brings an extraordinary vision, passion and outreach that will surely resonate with readers young and old, long into the future."