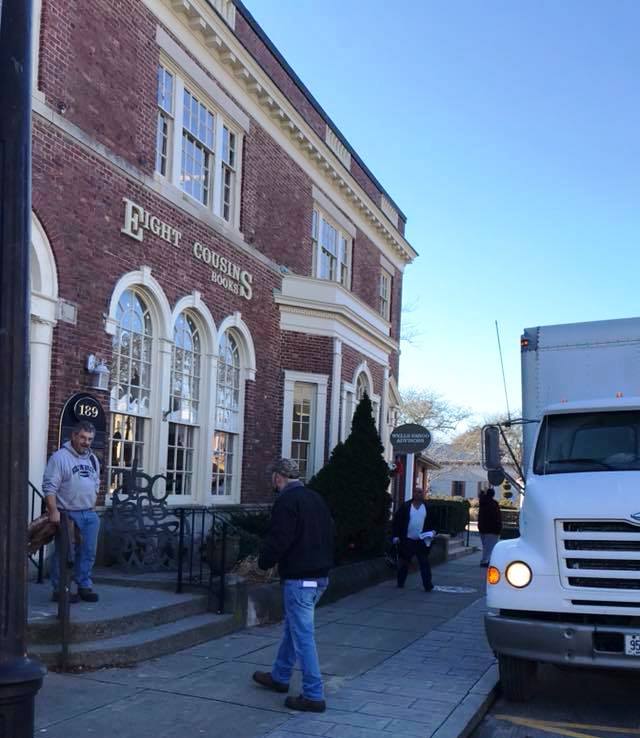 Eight Cousins moved what's left of the bookstore into storage.
At Eight Cousins, Falmouth, Mass., the water damage January 9 from a broken pipe upstairs was so severe that the store lost "around 95% of inventory and around 50% of our shelving," the store wrote to customers. "The water spread across our ceiling, creating pools as the tiles started to sag from the weight. The tiles then broke, probably at varying intervals throughout the night. It wasn't linear, or horizontal, but cube damage: ceiling to floor across the middle of the store at approximately 12 x 36 square feet.

"All the books not hit directly were starting to warp before we found them. When we say that everything is gone, it's not entirely hyperbolic. There is also damage to the building, which is why we are waiting to reopen."

The space has been emptied and "feels different now. It is a decent size and it definitely has a lot of potential." This has led the owners to consider ways to redesign the space. "There are certain areas that could flow better. It's been interesting to look at a blank layout and debate about new ways to fill it. Our gift buyer cut out tiny pieces of paper to scale to represent shelving. Tweezers required. We've also been reading the fantastic feedback you've provided on our two-question survey. It's gratifying to see requests for more reading areas, because we've been talking about the same idea."