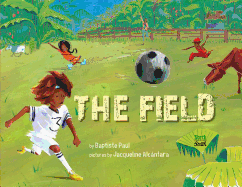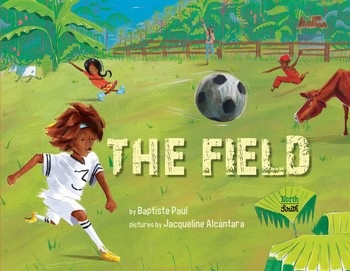 Sports fan Baptiste Paul joins forces with Jacqueline Alcántara, winner of the 2016 We Need Diverse Books Campaign Mentorship Award, for this lively picture book debut.

In a series of three panels, a boy in Saint Lucia dribbles a soccer ball up to two friends who are sitting outside and chatting. "Vini! Come! The field calls!" He moves around town, inviting one and all to come play futbol. The two children seen chatting in the first panel now stride across an open field carrying a handmade goal. "Bol. Ball. Soulye. Shoes. Goal. Goal." A cow grazes nearby. On the next spread, one brave child has begun shooing away the doe-eyed cows as more people arrive to play. The colors pop off the page--lush greens, vibrant reds and yellows, sparkling blue water in the background--as teams are chosen. "Ou. Ou. Ou. You. You. You. Friends versus friends. Annou ale! Let's go!"

A boisterous game begins, the figures' edges blurring with their speed. As the children yell to each other--"I'm open!" "Pass!" "Shoot!"--a small crowd gathers to watch. The next full-page spread depicts our original eager-to-play child in mid-stride, looking over his shoulder as the sky greys behind him: "Uh-oh."

The bold colors of Paul's native Saint Lucia dim as driving rain slants across the page. "Fini? Game over?"

"No way. Play on!"

The bright colors of the children's clothing pop as they continue their game in what is now a field of mud. "Splash," one dives for the ball, spraying water and mud everywhere; "Slip-slide," two compete in a puddle to gain control of the ball. The group of mostly brown-skinned children are sopping wet and covered in mud when the ref yells, "Time-out! Shoes off. Socks off. GO!" The spirited game continues. Then, the sun begins to break through the clouds, Alcántara's illustrations perfectly depicting the brilliant rays of sunlight shining on the players. "One last drive. Dribble, twist...."

"GOOOOOOOOOOOOOOOAL!" The enthusiastic children share "[h]igh fives. Fist-bumps. Happy tackles" and rollick in the mud. Alcántara's figures are full of motion and energy, every page showing figures in exuberant action. "Mamas call. Vini! Come! We play on. Vini, abwezan! Come now! Game pauses. Mamas press their lips." At this sign, the children quickly clear off the field, which is already being repopulated by goats. "Mud-caked kids" run back to their homes, waving goodbye, as the sun sets in glorious reds and oranges behind them. Bathed and cozy in bed, they "dream about futbol" and "about friends. Until the field calls again."

Paul and Alcántara's joyful work finishes with an author's note and a glossary of all the Creole words sprinkled throughout. The Field, with its concise and energetic text and dynamic illustrations, is irresistible, unfettered fun. --Siân Gaetano, children's and YA editor, Shelf Awareness

Shelf Talker: On the island of Saint Lucia, children play an exciting pick-up soccer game in this vibrantly illustrated work by Baptiste Paul and Jacqueline Alcántara.