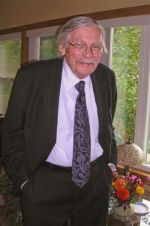 Ted Heinecken
Ted Heinecken, the much-loved Midwest rep, died last Saturday from complications of cancer of the duodenum. He was 84.
Heinecken retired from Fujii Associates in 2015 after more than five decades in the book business. He began his bookselling career in the Midwest in 1963 selling Oxford University Press and then, from 1969 to 1977, as a partner in Heinecken-Ide Associates. He then managed Heinecken and Associates from 1978 until its acquisition by Fujii Associates in 2008. One striking sign of his longevity: he attended 52 consecutive ABA/BookExpo America shows.
At his retirement, Heinecken said, "I have always held the conviction that being a part of the book trade community is a special calling, requiring a love of the book and a belief in the printed (whether or not on paper) word as a keystone of our culture."
A memorial service will be held in April in Chicago.