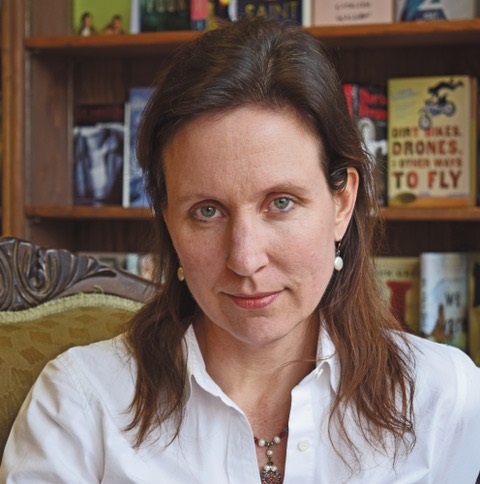 photo: Connie Dillon
Carrie La Seur has published short stories in two 2017 anthologies, Montana Noir and Sandstone. Her second novel, The Weight of an Infinite Sky (Morrow, January 16, 2018), is a family drama set in Montana and loosely based on Shakespeare's Hamlet. Her debut novel, The Home Place, won a High Plains Book Award and was shortlisted for the Strand Critics' Award for Best First Novel. La Seur is a seventh-generation Montanan, a Rhodes Scholar and an environmental lawyer who successfully opposed proposed new coal plants and helped launch the Keystone XL campaign.

On your nightstand now:

Joan Didion, South and West: From a Notebook. I read Didion a page or two at a time, hanging on her words, the rounded resonance. It hardly matters what she's writing about, yet this book sounds deep in my knowledge of my rural self. Under that are Harvard Classics volumes 1 and 2: Lectures; Letters and Treatises of Cicero and Pliny, partly an autodidact project of foundational literature and partly to write a character who's a classics scholar named after Cicero. Then my Nook, midway through Deepak Chopra's Perfect Health. My family has had a lot of health challenges--my grandma had a crippling stroke in her 40s. I want this body to keep working.

Favorite book when you were a child:

When I was a kid in a series of small plains towns, I lived at the public library and read to learn what was out there. I had so little information. I could hardly believe A Wrinkle in Time was real when I first read it. The brilliant scientist mother. The house full of books and experiments. The otherworldly travels and the sequels rich with ideas like alternative wrong timelines, like the one we've gotten into now. It was like a periscope out of my little vessel onto the open sea.

Your top five authors:

Neal Stephenson (see below). HLM Margaret Atwood (Her Literary Majesty), one of my earliest writerly inspirations. Gabriel García Márquez, Gabito, for motivating me to read Spanish to let his words hit my brain unaltered. Umberto Eco for his scholarship and for Foucault's Pendulum, the unabridged and infinitely better book from which The Da Vinci Code derived. Pablo Neruda for the revolutionary poetry and the defiance: Let the Railsplitter Awake and Other Poems.

Book you've faked reading:

Everyone loves to love David Sedaris, and when I find myself in one of those conversations, I just smile and nod. Maybe he strikes too close to home. There are also a few books I've seen as a judge for literary prizes that I pretended to have read, but actually cast aside when I couldn't take the submissive, stereotyped women any longer.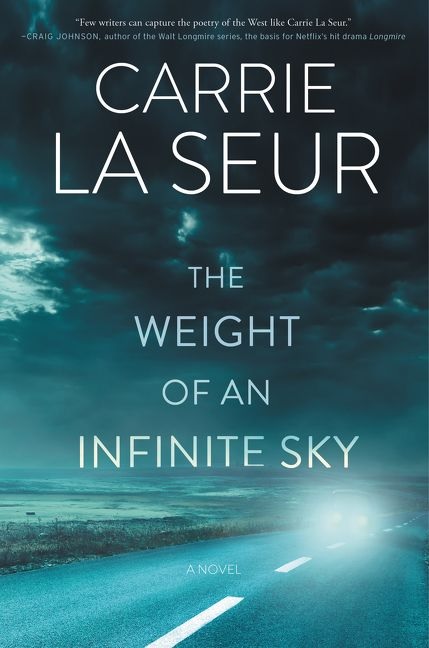 Book you're an evangelist for:

I was already a fan of Neal Stephenson when I read his essay about attending a literary conference where his status as a "popular author" was something akin to advanced leprosy. It made me all the more eager to declare the genius of books like Snow Crash (seminal cyberpunk), Anathem (about cloistered monks in what may be an alien civilization at the end of the world) and Diamond Age (about an urchin who lays hands on an interactive book that will transform her life). He's f**king brilliant. Can I say that?

Book you've bought for the cover:

Amy Tan, Where the Past Begins. Irresistibly shiny, in both the physical and Firefly sense. I have magpie DNA.

Book you hid from your parents:

Judy Blume, Wifey--the first time I realized that books could be about sexy time, or that sexy time existed. I think my mom brought it home and wondered for a long time where she'd put it.

Book that changed your life:

Adrienne Rich, What Is Found There: Notebooks on Poetry and Politics. Years after reading it in college, I come back to this book to find something new every time. Rich's words about how poetry matters, the way it informs our beliefs and actions, and how it can be a catalyst for change, are xylum vessels for my writing, pulling nourishment up from the depths.

Favorite line from a book:

"The day was ending in a serenity of still and exquisite brilliance." --Heart of Darkness by Joseph Conrad. It goes on: "The water shone pacifically; the sky, without a speck, was a benign immensity of unstained light; the very mist on the Essex marshes was like a gauzy and radiant fabric, hung from the wooded rises inland, and draping the low shores in diaphanous folds." Holy cow.

Five books you'll never part with:

Wendell Berry, The Way of Ignorance, for making me feel I'm not alone. Joan Didion, The Year of Magical Thinking, for letting me see that when one day I am alone, eventually I'll be okay. Louisa May Alcott, Little Women, because part of me is still the little girl who loved these characters with all her heart. Walt Whitman, Leaves of Grass, for the essential Americana, a finer vision than we've realized. And Gabriel García Márquez, Love in the Time of Cholera, for the detail, the mastery and the angst.

Book you most want to read again for the first time:

Barbara Grizzuti Harrison, Italian Days. I found this book on a library shelf in the countdown to a long-awaited trip to Florence. Its wonderfulness was such that by the end I rationed it and only read a page or two a day. I wish I could have that feeling again of pure delight and anticipation in the physical form of a book I discovered on my own.

Book I was named after:

Theodore Dreiser, Sister Carrie. My mother never could explain exactly why she loved the name or the book, but the girl who comes to the big city from and with nothing and must make her way is one of the archetypal stories of our family. It ends on a distinctly melancholy note: "In your rocking-chair, by your window, shall you dream such happiness as you may never feel." This aspirational dread creeps into my writing frequently, my unconscious class identity.