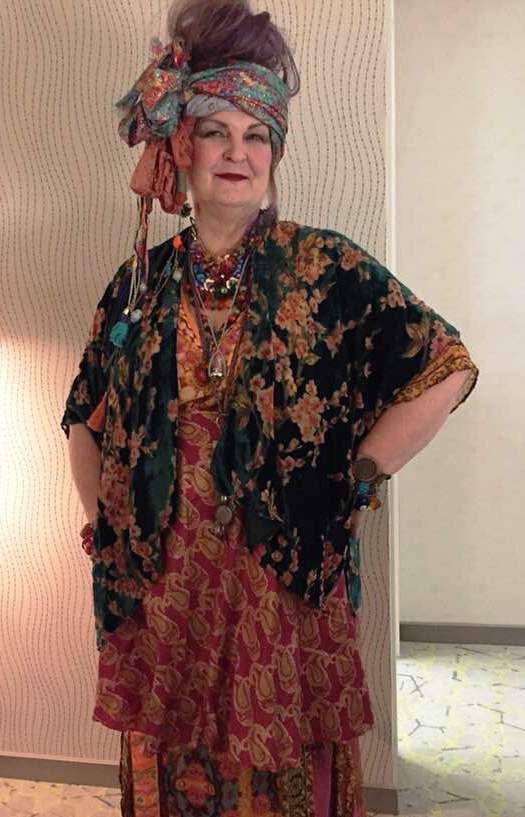 Kathy L. Murphy
If there is anyone in the book world who better represents the concept of "the show must go on" than Kathy L. Murphy, I haven't met them yet. Former owner of Beauty and the Book, "the only hair salon/book store in the world," she is also the founder of the Pulpwood Queens and Timber Guys Book Club, with more than 700 chapters internationally; and author of The Pulpwood Queen's Tiara-Wearing, Book-Sharing Guide to Life.
But the crown jewel in her bookish tiara is the annual Pulpwood Queen Girlfriend Weekend, which celebrated its 18th anniversary last month in Nacogdoches, Tex. This year's theme was "Bohemian Rhapsody." Although I've had a longstanding invitation to attend for many years, I just haven't been able to make my way down to East Texas, though I hope to someday. Call it a bucket list item.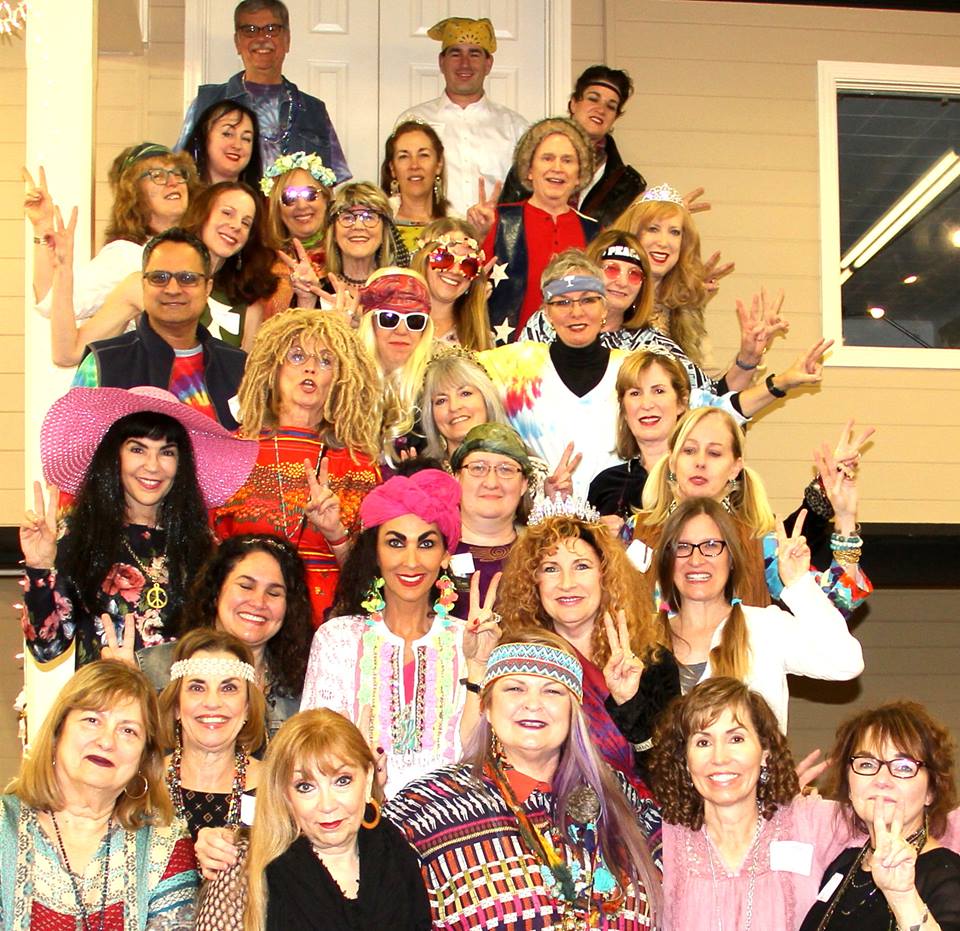 Authors at Girlfriend Weekend
What is the Pulpwood Queen Girlfriend Weekend? On her blog, author Clea Simon attempted to answer the question: "Imagine 40-plus authors and 100-plus readers/book group members in one room. Now visualize them in hot pink, leopard print, and tiaras--all talking about books, reading, their favorite characters, their latest discoveries, and how those all those stories got writ, and you've got a rough idea. The genius brainchild of the incredible Kathy L. Murphy, the Pulpwood Queen Girlfriend Weekend is an annual celebration of readers, a total immersion in a world of fun and reading."
I first began corresponding with Kathy about a decade ago and met her in person, along with her daughters Madeleine and Helaina, at BookExpo 2012 in New York City. She told me then she believed she had "created 'a book world,' a world where we are building lifelong friendships, relationships and community that is truly making our lives for the better." And so she has.
Earlier this week, I asked Kathy how she would describe herself. "I believe that my calling in life is, as the founder of the Pulpwood Queens and Timber Guys Book Club, to lead the crusade in promoting authors, books, literacy, reading, all the arts and to encourage others to be lifelong learners," she replied. "I prefer not to be labeled as labeling just places limits. I am many things, including, author, artist, book club moderator, mentor, mother, but my sole mission is to be an advocate for all the arts in all my endeavors. Do they have a name for that? How about being a decent human being and doing the right thing." Now that's a job description.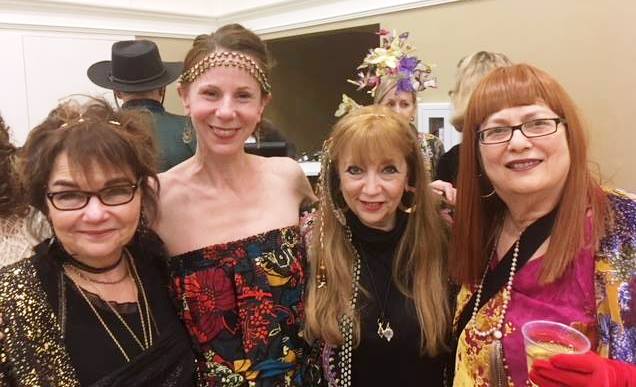 Randy Susan Meyers, Alyson Richman, M.J. Rose and Alice Hoffman
This year's Girlfriend Weekend featured author Jamie Ford as co-host; keynotes by Alice Hoffman, Lisa Wingate, M.J. Rose and Randy Susan Meyers; an array of panels, events and celebrations, including the legendary Author Dinner, with visiting authors waiting tables; and the Great Big Ball of Hair Ball. All of this took place in a new facility, the Fredonia Hotel & Convention Center in Nacogdoches.
"We had been waiting for the restoration of the retro hotel and was it worth the wait," Kathy noted. "Staff and service were superb in a very unique and historic setting. Pulpwood Queen Girlfriend Weekend has never been so easy for me and my trusty sidekick, Tiajuana Anderson Neel. We were able to truly relax and truly enjoy the event as all our anticipated needs were met and more!"
Murder by the Book, Houston, Tex., was the book vendor for Girlfriend Weekend, making "it relatively seamless from panels to book signings, so the overall view is I finally have found a real home where everybody has truly come together to help celebrate our authors, their books, literacy and reading," Kathy said. "Though the flu hit us hard in East Texas and many had to back out at last minute, we still were able to raise $2,500 in our Author Silent Auction for the Pat Conroy Literary Center. I still believe this was my most successful event ever. It was a win, win, win for all. We already have more signed up for next year than ever before with our theme 'How the West Was Won' "
This year's Pulpwood Queen book award winners were One Good Mama Bone by Brenda McClain (Book of the Year), Before We Were Yours by Lisa Wingate (Bonus Book of the Year) and The Low Country Coloring Book by Melissa Conroy (Crossover Book of the Year.)
What do Kathy's efforts mean to writers? M.J. Rose told me: "Kathy Murphy has been authors' best girlfriend for years and years, singlehandedly selling our books out of her love of reading. From the minute I got to Texas to the minute I left I was aware of how deep and abiding her love goes and how much her readers count on her to give them advice and suggestions. Everyone always talks about the costumes and the parties, the makeup and tiaras and crazy hairdos--but it's the patronage and the dedication and all out passion that Kathy has that made the weekend matter so much to me and made me so very appreciative of her."
"This is my passion and I have never been more excited for our 19th year coming up," Kathy said. "Go where the heart is, and we will continue to make history in East Texas."