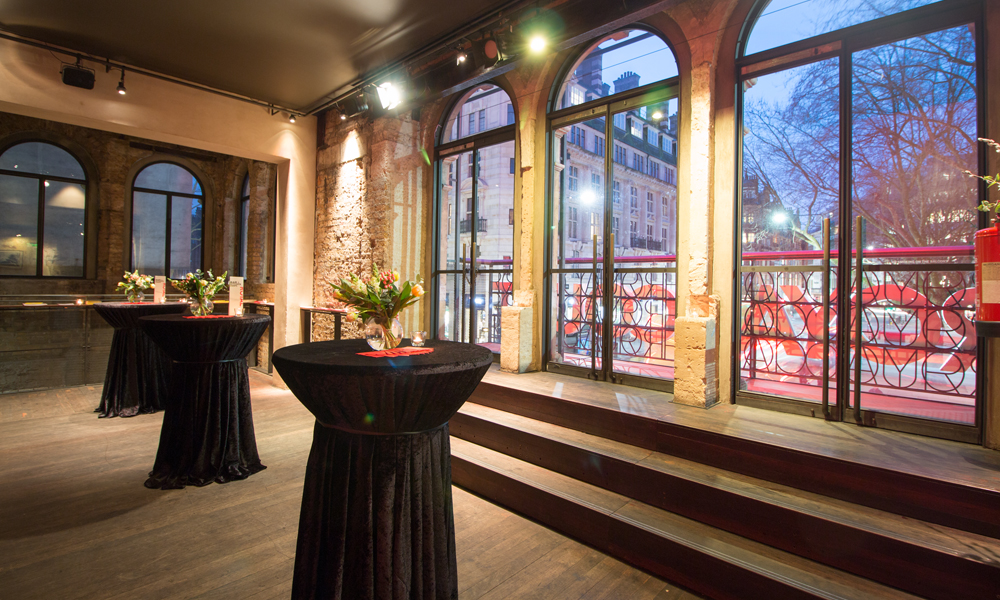 Samuel French's future home
Samuel French, which closed its London bookshop last April after 187 years in business, will reopen March 5 in a new home at the Royal Court Theatre. The store "will occupy the beautiful Balcony Bar on the first floor," according to the company's website, which noted: "Simon--our shop manager from the store on Fitzroy Street for thirty years--will again be on hand to help and answer questions. The shop will be a friendly place to browse and read, enjoy a coffee and take part in live events with playwrights." Samuel French also operates bookstores in New York City and Hollywood.
The new bookshop was designed by Haworth Tompkins, who oversaw the redevelopment of the theatre in 2000, and Citizens Design Bureau, who worked on the refurbishment of the theatre's Bar & Kitchen three years ago. It will be open from Monday to Saturday. After the main shop closes, there will be a smaller bookstall in the bar area on the lower ground floor open from 6 p.m. to showtime on nights when performances are taking place.
"Samuel French is thrilled to re-open a theatre bookshop in London, especially here at the Royal Court, the home of new playwriting," said Douglas Schatz, managing director of Samuel French in the U.K. "The new bookshop will serve as a unique resource and space, where throughout the day and before shows customers will be able to browse a wide range of play texts and theatre books, as well as enjoy a coffee, sit and read, or attend a live author event."
Lucy Davies, executive producer at the Royal Court Theatre, commented: "This is an exciting and significant new partnership which allows us to re-imagine and share the loveliest public space in our building--our Balcony Bar--giving audiences, readers and writers a very special new resource. We are delighted that Samuel French's legendary bookshop can move into a new era with us here in Sloane Square."