Kevin Elliott from 57th Street Books in Chicago, Ill., sent in this story.
I thought I'd share this unexpected story from a few weeks ago.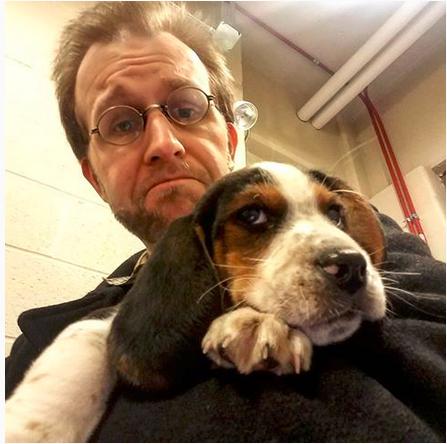 While walking from 57th Street Books to our sister store, the Seminary Co-op, one early Sunday morning to retrieve a dolly for an all-day pop-up shop we were scheduled to sell books at, I noticed a puppy waddling around in the alley between our stores with no leash and no humans partner. When I approached to say hi, the little guy approached with friendly sniffs and whimpers. I picked him up and walked up and down Kimbark, hoping to find the owners. Nothing. So, I took him into our store to see if he wanted to read some Antisthenes or Diogenes. While he pawed through the philosophy section, I posted this picture on social media in hopes that the owners were fans.
It became abundantly obvious that he was more of a Mary Oliver fan, so I took him over to the poetry section and posted another picture.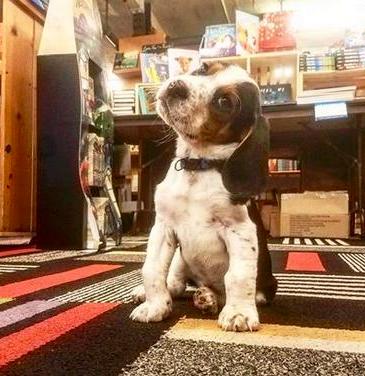 By this time, I was quite late to our pop-up shop when our children's manager, Franny Billingsley, came in a bit early to watch the little guy. When I got up to leave for the offsite, the puppy dropped everything and followed me around. I've been in this industry a long time and I've seen a lot of puppies come and go in the stores I've worked, but reader, I love him.
In further attempts to find the dog's owners, Franny posted a photo on a local message board. Soon, customers and community members were sharing the story of our adopted store dog. A discussion began among our local authors and readers that our award-winning children's book author and children's manager, Franny, should write a story about his adventures in Hyde Park.
After a couple of hours of petting, cooing, and heart melting of staff and customers alike, the owners caught word, thanks to our community and came in to retrieve him.
The pup's name is Biscuit (how perfect!) We shared the story during our weekly Saturday story time, and Biscuit now has a fan base.
Later in the evening, two adorable children came in with their mother and gifted us with four cases of mini-cupcakes as a thank you for saving their beloved Biscuit. I, of course, demanded that Biscuit make frequent visits, because even though I am a cat person, Biscuit has a special place in my heart.
Through all this adventure, I thought about how we read about bookstores being important elements of the community. Community spaces. Valued community institutions. Essential to the community. You read it so much, that sometimes it can seem like just a marketing term.
Carrying Biscuit in my arms through the cold Saturday morning streets in attempts to find his owners. Watching our neighbors come together to help return Biscuit home. Telling our event partner that we would be late to sell books because we had to tend to a puppy's needs.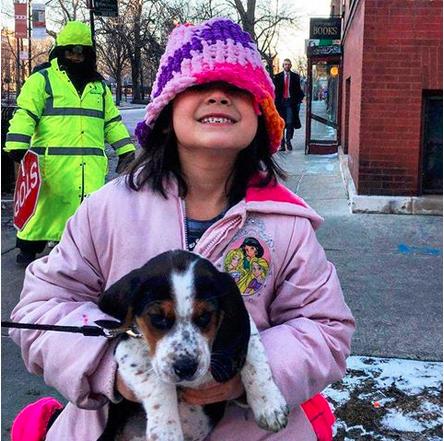 These were the things that firmly took the feeling of community to a new and genuine level.
And for those wondering, Biscuit still visits us. Here's a picture of him with his happy owner crossing the street just outside of our store the other day.