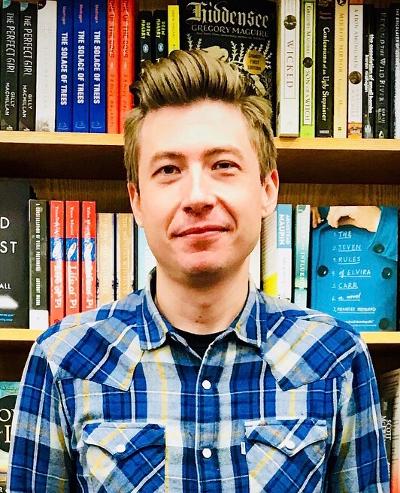 Larry Law
Larry Law has been named the new executive director of the Great Lakes Independent Booksellers Association, effective March 1. He most recently worked as director of e-commerce & marketing at Anderson's Bookshops in Naperville, Ill., where he began his career as a frontline bookseller.
In 2015, Law joined GLIBA's board of directors, serving on the executive, education, and New York trip committees. An accomplished artist and graphic designer, he redesigned the GLIBA logo to better represent the current membership and its geography. He also sits on the board of ArtBar, a local arts organization committed to promoting and helping local artists reach patrons in the community and connect with other artists.
"After an extensive search that resulted in an incredibly rich and impassioned pool of candidates, we chose Larry for his deep commitment to not only our organization and our mission, but his love of the region as a whole," the board commented. "His many skills, both technological and interpersonal, make him poised to provide our association with the tools and enthusiasm we need to move forward into the new vibrant landscape of bookselling."
"I am privileged to have been a member of the bookselling community in the Midwest for over 15 years," Law said. "It is with no hesitation that I say we have some of the best bookstores, publishers and sales reps in the country. Now, it is my great honor to represent them. I am eager to help GLIBA continue to grow, and to help our bookstores and partners successfully move forward. We are a community built on relationships both within our neighborhoods and within our bookselling family. I am so excited to help these relationships thrive and to bring some new energy and perspective to our region."
Law can be reached at info@gliba.org beginning March 1.