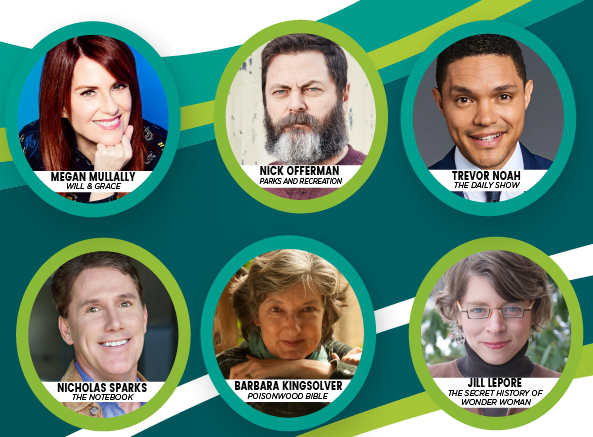 The lineup for BookExpo's Adult Book & Author Breakfast, scheduled for Thursday, May 31, has been announced, with husband-and-wife duo Megan Mullally and Nick Offerman to host. Known for their respective roles on Will & Grace and Parks & Recreation, they are also the co-authors of the memoir The Greatest Love Story Ever Told, coming later year from Penguin Random House. During the author breakfast they will discuss the memoir for the first time.
Joining Offerman and Mullally onstage will be Trevor Noah, host of the Daily Show and author of Born a Crime and a second, as-yet-untitled follow-up; Pulitzer Prize-nominated author Barbara Kingsolver, whose next book, Unsheltered, is coming from HarperCollins in October; historian Jill Lepore, author of The Secret History of Wonder Woman and a forthcoming history of the United States called These Truths; and Nicholas Sparks, who will publish a new novel this fall with Grand Central.
The Children's Book & Author Breakfast, hosted by National Book Award winner Jacqueline Woodson, will take place the following morning on Friday, June 1.