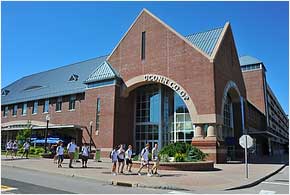 Two endowments have been created with the remaining funds and assets of the UConn Co-op, the independent, member-owned, student-governed bookstore that served the University of Connecticut for 41 years. The university outsourced the bookstore's operations to Barnes & Noble in 2016. The UConn Co-op's spirit will live on, however, through the new Legacy Research Fellowships and a Distinguished Guest Speaker Series.
Inspired by the UConn Co-op's "commitment to public engagement, innovative entrepreneurship and active mentorship," the Cooperative Legacy Fellowship Program will provide undergraduates with the opportunity to pursue funded research projects and/or creative endeavors. The award can work in conjunction with other research endeavors or function as a standalone grant. The fellowship is under the direction of Cathy Schlund-Vials, professor of English and director of the Asian and Asian American Studies Institute.
The UConn Co-op Distinguished Guest Speaker will be a leader in her or his field, such as, but not limited to creative writing, fine arts, music, human rights, ecology and evolutionary biology, sustainability, puppetry arts, history, or diversity, and community development. The guest will be available for interaction with students and faculty. It is anticipated that the first speaker will be chosen this spring/summer and be on campus in the fall.
In addition, the UConn Co-op donated $300,000 to the Homer Babbidge Library's Fund for Affordable Textbooks.