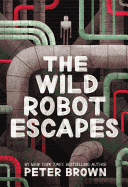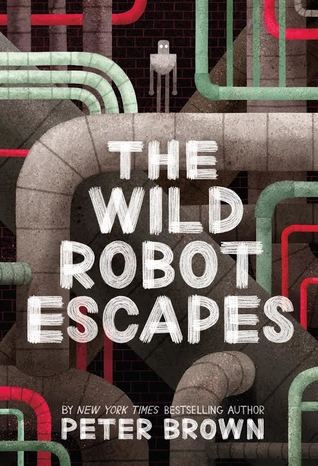 When readers last saw Roz, it would have been hard to imagine her on a farm. But that's where the wild robot's new journey begins in Peter Brown's sequel to his bestselling middle-grade novel, The Wild Robot. Roz is delivered by self-driving delivery truck to Mr. Shareef, a recent widower and father of two, to help him on his dairy farm. Hilltop Farm's animals, like those on the remote island she used to call home, first see Roz as "a monster." She quickly connects with them, though, by doing "the unthinkable" and speaking "to the cows in the language of the animals." She bonds with the farm animals and the Shareef children, but desperately misses her adopted son, a goose named Brightbill. Roz has a place on the farm but she longs to escape. Over many months, with help from almost every animal and person she knows, Roz is finally reunited with Brightbill. The two set out to return home but, even as she is running away from the farm, she doesn't feel free; she feels "something more like fear" that she'll be captured and destroyed, or that her son will be hurt. Indeed, both Roz and Brightbill are not free--in order to have any chance of making it home, they will have to escape completely from a society that doesn't understand them.

As with The Wild Robot (2016), The Wild Robot Escapes has a broad appeal beyond the typical middle-grade audience. Brown's simple prose and illustrations, in combination with the story's complex themes, make The Wild Robot Escapes both accessible and thought-provoking. Roz observes and explores her world with open curiosity, and many of her conversations pose interesting questions to the reader, as in this conversation:

" 'How do you know your feelings are real?' said the woman.
'How do you know your feelings are real?' said the robot."

After considering the concepts of the self and the importance of community, the story ends on a quiet and satisfying note, leaving readers with much to discuss. Black-and-white illustrations, drawn in Brown's expressive style, add visual context that will attract and aid any reader who's still building the ability to decode text. The book also works beautifully as a read-aloud, thanks to third-person narration that often addresses the reader directly ("Reader, there's another important quality that children possess. In addition to being sneaky and smart, they're also compassionate") and ultra-short chapters. For the sake of Roz's happiness, readers may hope this is her final adventure. Whether it is or isn't, though, Roz and her numerous families have given readers a book to mull over for many years. --Stephanie Anderson, assistant director of selection, BookOps

Shelf Talker: The sequel to Peter Brown's acclaimed The Wild Robot is a magical middle-grade mixture of prose and illustration about what it means to be free and what it means to belong.