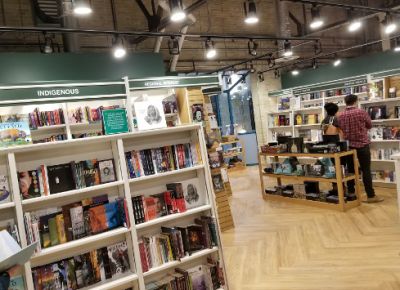 McNally Robinson Booksellers has opened a second Winnipeg location, at the Forks Market. The Canadian indie, which also operates its Grant Park Mall flagship store in the city, said the new location "is a familiar extension. The intent is to showcase the newest and best of what's on offer, while dedicating a special presence to Indigenous and local writing as well as books for children." A rotating selection of non-book items will also be available for sale.
"We are thrilled with the way the Forks has been reestablished as a meeting place," McNally Robinson co-owner Chris Hall noted. "It was a meeting place for Indigenous peoples from ancient times and now brings Winnipeggers as well as visitors from around the world together to enjoy the area's varied offerings. To have the opportunity as a local, independent bookseller, to become a part of what's going on at the Forks is very exciting to all of us."
Hall told the Winnepeg Free Press that the new store, located in an 850-square-foot space on the second floor, has taken about a year to come to fruition. An extension of an additional 150-plus square feet has already begun, made possible by the recent closure of Sydney's Restaurant. It will give the new McNally Robinson access to another set of windows.
"During the course of the last year, as we have been planning and putting the new store together, not one person said to me, 'The Forks? Really?' " Hall said. "Everyone immediately gets excited. It makes perfect sense to everyone.... It's not really even going to add another store's worth of overhead because Grant Park is like the warehouse which we can draw stock from and we have all the human resource management, newsletter production and all the buying of books already happening. The only overhead is labor and rent."