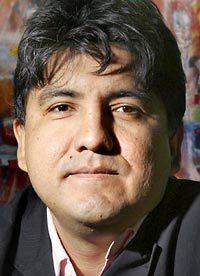 Sherman Alexie
After a month of online charges that he has been abusive to many women, particularly Native American women, author Sherman Alexie issued a statement yesterday. It's a mix of admission and denial and, as with so much of the matter, it's somewhat vague.

"Over the years, I have done things that have harmed other people, including those I love most deeply," Alexie wrote. "To those whom I have hurt, I genuinely apologize. I am so sorry.... There are women telling the truth about my behavior and I have no recollection of physically or verbally threatening anybody or their careers. That would be completely out of character. I have made poor decisions and I am working hard to become a healthier man who makes healthier decisions. Again, I apologize to the people I have hurt. I am genuinely sorry."

But at the same time, Alexie rejected "the accusations, insinuations, and outright falsehoods" made by Litsa Dremousis, author of Altitude Sickness, the most open and active of the women who have accused Alexie of misbehavior. Alexie admitted to being "consenting sexual partners" with Dremousis, a relationship that ended in 2015, adding that last October, she sent an e-mail to his wife about the previous relationship and "posted something on my wife's Facebook page." After that, "Ms. Dremousis has continually tweeted and spoken in public about my behavior, making accusations based on rumors and hearsay and quoting anonymous sources."

For her part, on Facebook, Dremousis responded by saying that some of Alexie's statement is "accurate. Some is not. Part of his statement about me [is] 100% false. I've never written on his wife's Facebook page. I don't even know if she has a Facebook page."

While she apparently hasn't accused Alexie of harassing her, she has said he had harassed perhaps as many as 80 women, who have been in touch with her, and in October, just as the #metoo movement began to spread across the country and internationally, she "confronted him about his sexual harassment of women."

She stressed that she was open about their affair. "I knew he'd use a consensual affair which ended w/ us staying good friends as a way to discredit dozens of women *who consented to nothing*."

She ended: "A man I confronted four months ago about his sexual harassment of women finally issued a statement wherein he doesn't deny it. That's all I'll say I'll for now."

The accusations involve sexual harassment and charges that Alexie threatened the careers of any women who might talk publicly about his behavior. Some of the charges were made on the comments thread of a School Library Journal article about sexual harassment in children's publishing, where last month several people said Alexie had harassed them or they had witnessed behavior that might have been or led to harassment.

None of the charges by the women are on record yet, making them difficult to evaluate. But many in the book world have reacted negatively to Alexie, who, of course, had been beloved by many booksellers, for his work, for his portrayals of Native American life and for providing the inspiration to create Indies First Day, the event on the Saturday after Thanksgiving that seeks to unite writers and indie booksellers. His YA novel The Absolutely True Diary of a Part-Time Indian won the National Book Award for Young People's Literature, and he has won many other awards, including the John Dos Passos Prize for Literature. And just last month, as the accusations were coming to light, Alexie won the 2018 Carnegie Medal for literary excellence in nonfiction for You Don't Have to Say You Love Me: A Memoir.
As the Seattle Times noted yesterday in a story about the Alexie statement, the Institute of American Indian Arts in Santa Fe, N.Mex., has renamed its Sherman Alexie Scholarship the MFA Alumni Scholarship. And as reported by Seattle Met, Debbie Reese, editor of the American Indians in Children's Literature, has removed Alexie's photo from the AICL's gallery of Native writers and illustrators.
Booksellers are debating how to react, particularly whether or not to stock his titles and how to display them. (More about that in an upcoming article.)